Like everything else, wood comes in different types, and they typically fall under two categories; hardwood and softwood. Just as these names suggest, the main difference between hardwood and softwood is that the former is somewhat tougher and denser than the latter. If you are looking to spruce up your outdoor space, here is a review to help you settle on the best wood for outdoor furniture.
Lucky for you, we are real nerds about wooden furniture. So, for this, we went all out on research to find the grades that offer different structural and aesthetic advantages and their nuances, so you won't have to.
What Wood Types Are Best for Outdoor Furniture?
As we mentioned earlier, wood types fall under the hardwood and softwood subgroups. Under these subgroups are weather-resistant species that would make great outdoor furniture wood.
Softwoods with natural moisture-resistant qualities make fine choices for garden furniture, and these include:
However, hardwoods come top-of-the-line as the best wood for outdoor furniture and projects. These include:
Teak wood
White Oak
Acacia wood
Black Locust
Mahogany
Eucalyptus
Shorea wood
American White Oak
Sapele
Ash
European Oak
Maple
Birch
Even the hardest and most durable wood types are susceptible to direct exposure to outdoor elements, including direct sunlight, rain, snow, or ice. To ensure long life outdoors, some wood types will need regular oiling, while others will need a sealant for extra protection.
Why Use Wood for Outdoor Furniture?
A. Aesthetics
Depending on the wood type, there's a diverse variety of colors and textures, all of which give your outdoor project a remarkable timeless finish.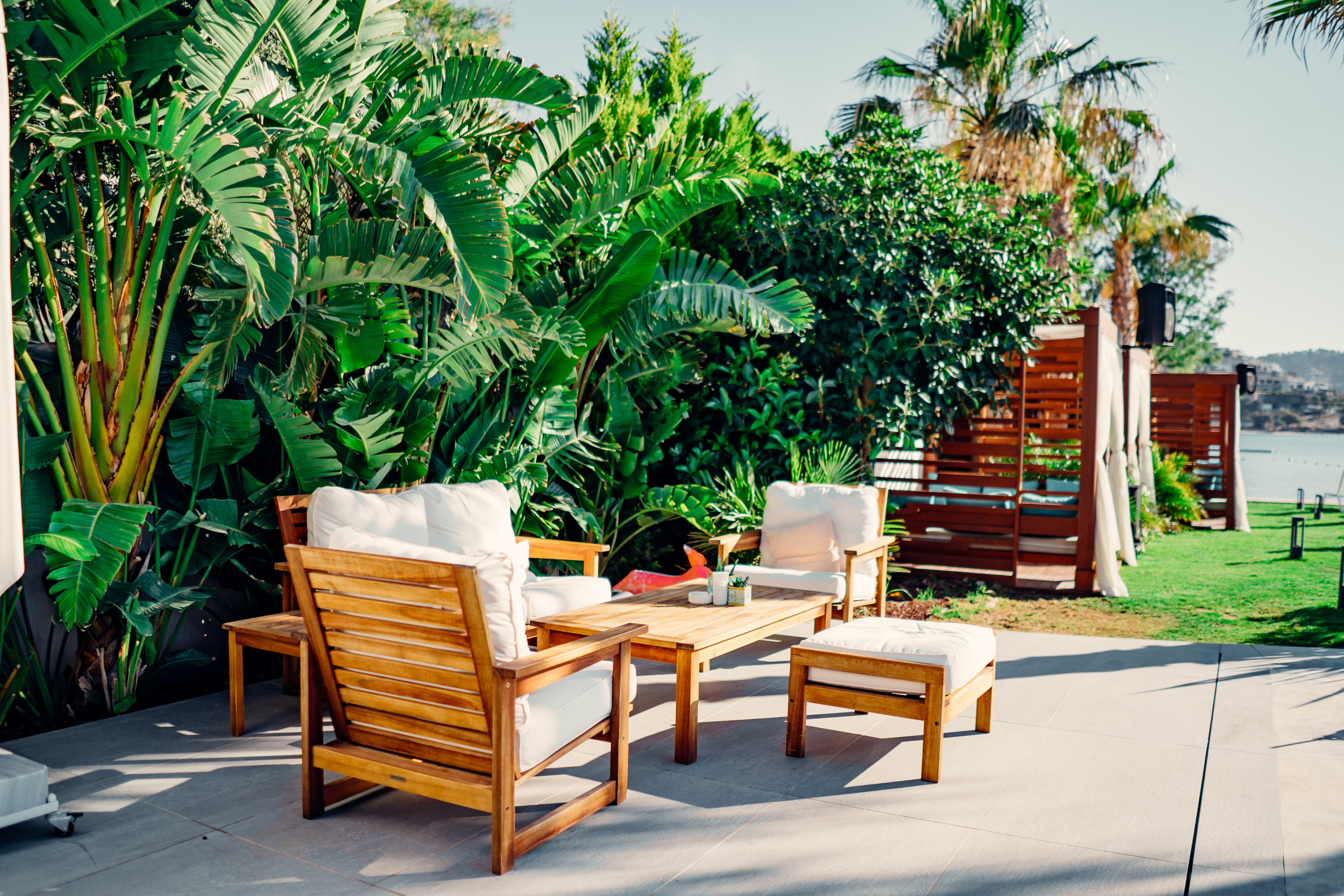 Image Credit: pinterest.com
Not only does picking out beautiful wood help aesthetically improve our outdoor furniture, but it also helps ensure that they only get better with time. For instance, if left unfinished, Cypress weathers to a beautiful silver-grey color with time.
These outdoor wood species are a great option for unique garden lounge seats, Adirondack chairs, loveseats, rockers, gliders, porch swings, and patio chairs and benches.
B. Eco-Friendly Material
Wood is an eco-friendly material that can be sustainably sourced and easily recycled back into the environment.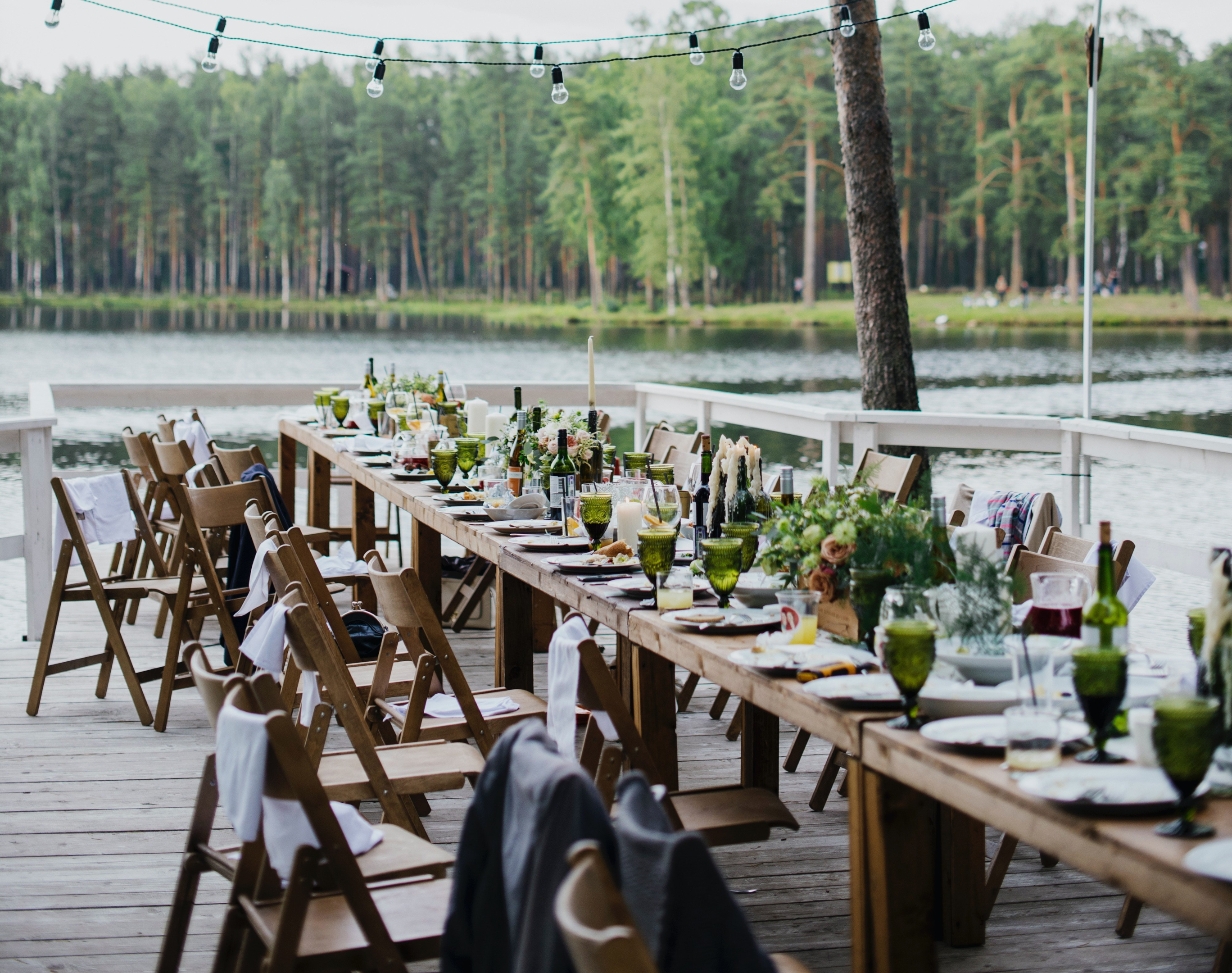 Image Credit: pinterest.com
Proper forest management is great for the environment since trees help absorb carbon dioxide. With proper forest management, turning wood into furniture also means keeping that carbon dioxide storage.
As a bonus, timber also requires relatively less energy to process compared to other materials.
C. Durable Woods
Overall, wood is quite a tough material; however, there is a list of highly durable and naturally rot-resistant woods.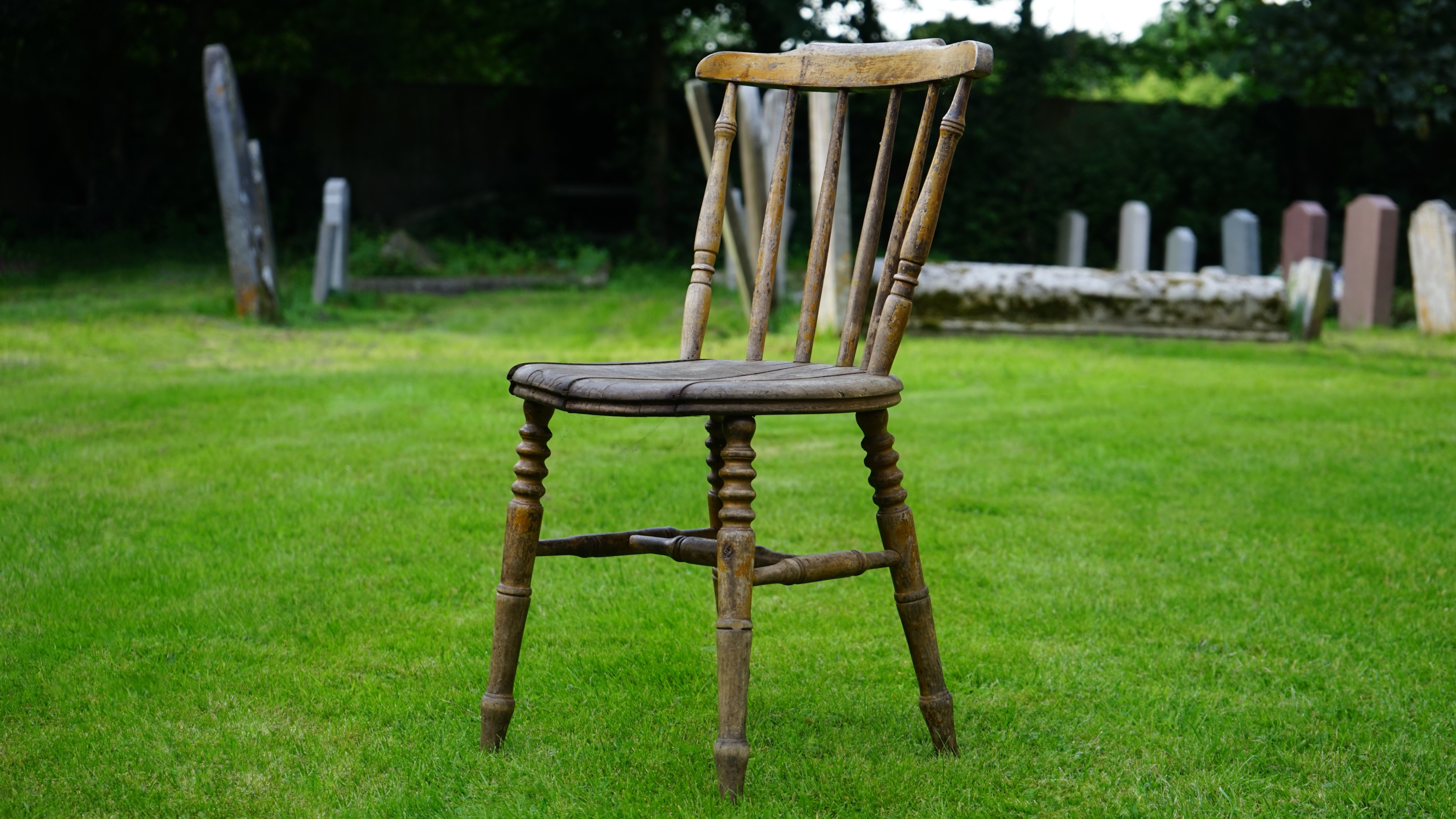 Image Credit: pinterest.com
With minimal maintenance, most outdoor woods have natural water resistance and natural insect resistance that can stand years of wear and tear.
Here is a more comprehensive review of our top picks:
1. Acacia Wood
Acacia is a hardwood that is native to Australia, Africa, South America, and Asia.
Image Credit: pinterest.com
Different Acacia wood types vary in hardness and color, but most species have a pale reddish or yellow. As a strong hardwood, Acacia has a rugged texture and is dense, which means it can be difficult to cut.
Due to its density, Acacia wood is naturally resistant to scratches, gouges, and dents. So DIYers should keep in mind that it will make their blades, for instance, chisels and even reliable hybrid table saws, blunt. Its density, however, means that it easily holds screws, nails, or glue together quite well. It has interlocking grain patterns that take a considerable amount of elbow grease to sand smooth.
Despite being strong and durable, it's one of the least-priced woods(and this is saying something), making it quite a popular choice for furniture making and boat building. Acacias also have a high oil preservative content, which makes them quite moisture and insect-resistant.
They are prone to rotting when exposed to wet grounds; however, if well-maintained, using a protective sealant on Acacia furniture can ensure they last for decades.
Due to its high oil content, acacia naturally retains its color even with exposure to the sun.
Acacia trees are sustainable and grow so well in many parts of the world that they are considered invasive.
2. Teak Wood
Teak is a tropical hardwood with exceptional durability and high resilience to different external factors. It has a stylish, soft, and grained finish and is overall relatively pricey, but it is one of the most highly recommended materials for wooden outdoor furniture and profitable woodworking projects.
Image Credit: pinterest.com
Like other natural woods, teak also produces its own preservative natural oils, so it has weather-resistant properties that require little to no maintenance. This means that it repels water, deters insects, and doesn't warp even with changes in humidity levels. However, it is recommended that you have an annual cleaning to keep the furniture in tip-top condition.
With time, teak furniture in its natural color weathers out to a beautiful silver-gray tint. However, suppose you prefer its natural color, it is relatively easier to restore it to its original color than other hardwoods like mahogany and ipe. This also makes it the best wood for outdoor furniture.
Teak has one of the most beautiful honey-colored wood that turns into an aesthetically pleasing gray color when it ages.
3. Mahogany Wood
Mahogany is an excellent choice for both indoor and outdoor furniture. It gives furniture pieces a classic touch. It comes in a beautiful reddish hue that weathers quite well over time.
Image Credit: pinterest.com
Mahogany is a hardwood that is best used in outdoor furniture since it has natural pest and decay resistance. It soaks up direct sunlight well and can be left outside for long. This makes mahogany great for chairs, decks, and tables.
Mahogany furniture is relatively pricey due to the durability and high quality of wood. It is also prized for its fine grain and color, which ranges from a light pink-brown to a heavy reddish-brown.
4. Cypress Wood
Cypress is a light wood that is originally from the southern United States. It has a beautiful golden brown to reddish-dark brown natural color that weathers so well over time. If left unfinished, the light yellow-brown cypress weathers into a silver-grey tinted wood.
Image Credit: pinterest.com
Its reddish brown wood hue and knot-free straight-grained timber is widely coveted. Cypress wood is built for the wet climate and releases a natural water repellent in the form of a preservative oil called 'Cypressene.' This natural resistance makes it pest and decay resistant and an ideal choice for outdoor furniture.
This means that this outdoor wood has some level of resistance to rain, rot, warping, and pests. For extra protection, a wood sealant would come in handy.
If you need to make a statement using your patio furniture, cypress has a gorgeous grain that makes it a great pick for outdoor furniture. However, it also doesn't do so well when put in contact with the ground without a finish.
Cypress is a softwood that makes it easy to work with, but you still need to be careful not to over-sand it.
5. Cedar
Cedar is another popular choice for DIYers who want to make furniture for outdoor use. It has natural rot and insect resistance.
Cedar trees are found all over the world, but the most commonly used type is the Western Red Cedar since it has a tight grain. It also comes in a beautiful reddish color.
Image Credit: pinterest.com
Cedarwood fades out beautifully, but since it's a softwood, it also dents easily. Cedar trees produce a fragrant, pleasant aroma that persists even in whatever it is used to build.
Cedarwood has been used in different applications for centuries, for instance, in Lebanon, as famously mentioned in the bible. It was also used to build some of the earliest homes in America. Today, cedar is still as popular in furniture and building projects, especially because of its natural beautiful look and durability.
Cedar is also used in house construction, patio furniture, cabinetry, building boats, making roofs, and many other places. You would be hard-placed to find a more durable and popular choice than cedar, even for small outdoor projects.
However, most of the Spanish cedar used in the US is imported from Central and South America or Africa, making it relatively pricey.
6. Rattan
Rattan is a reed-like softwood that is lightweight, flexible, and quite durable. It also has a lovely wooden finish, making it another ideal material for wooden outdoor furniture.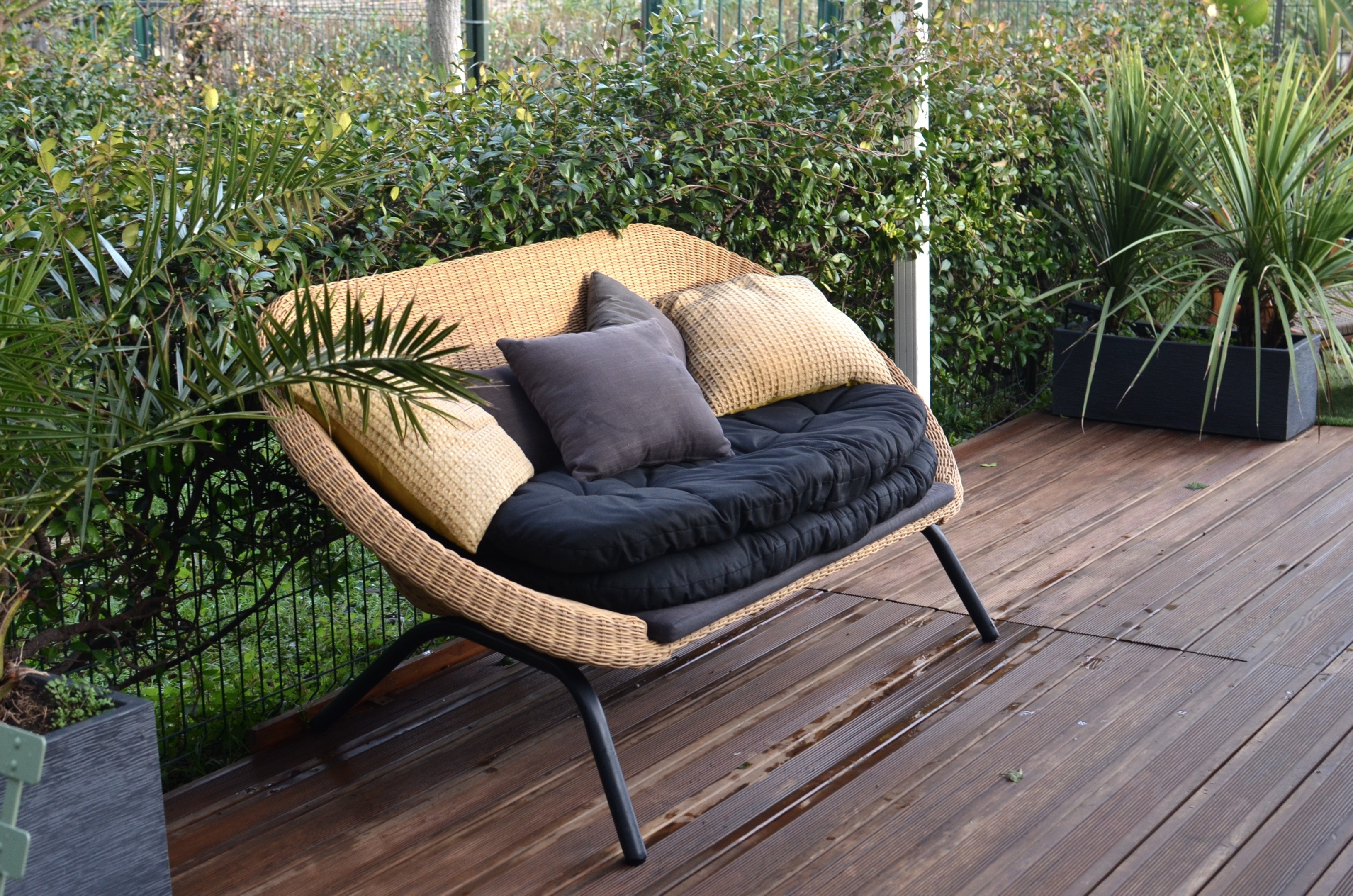 Image Credit: pinterest.com
Rattan is strong and fibrous, much like bamboo, and is often joined using a wicker weaving method.
7. Cane
Cane is another popular wood that undeniably adds an essence of tropical warmth to your furniture for natural beauty.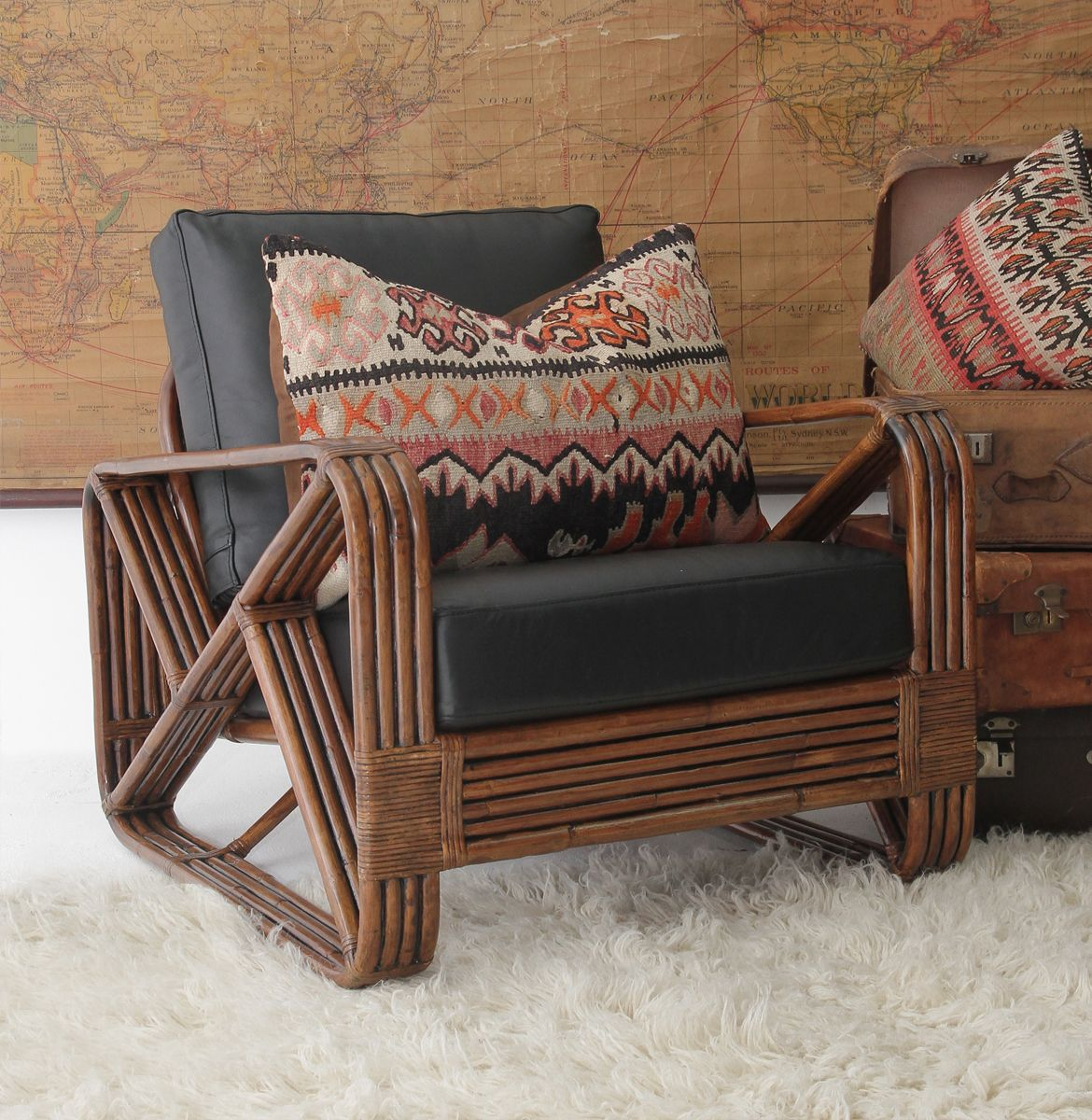 Image Credit: pinterest.com
Cane is made from the stems of the rattan plant, which makes it an equally long-lasting material that is perfectly suited for outdoor pieces and furniture. It also comes with the immense ability to resist different elements. Cane is rustproof and water-resistant.
Things to Consider When Choosing Wood for Outdoor Projects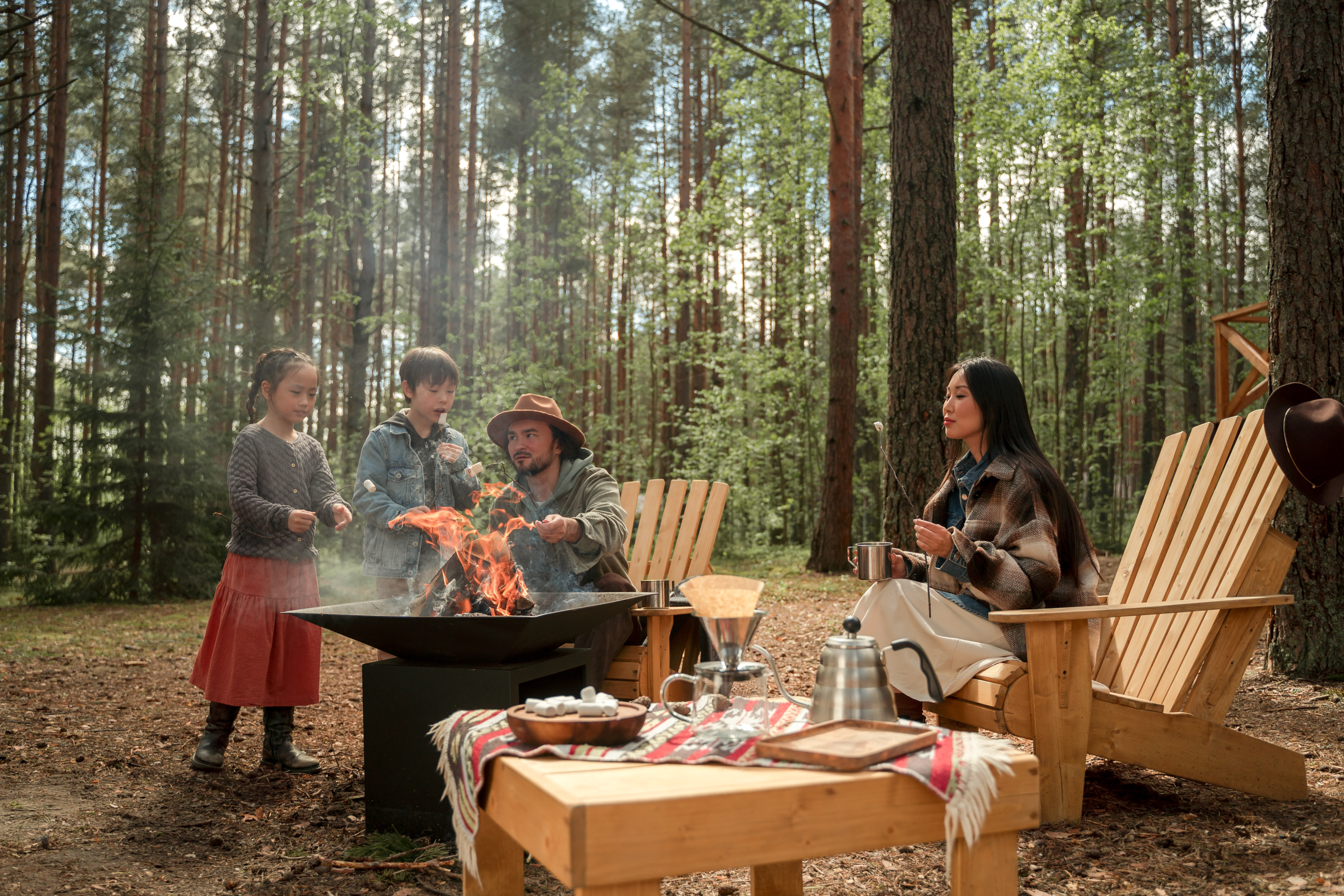 Image Credit: pinterest.com
a. Resistance to Insects and Rot
Different wood types and species have varying levels of natural resistance and susceptibility to rot. This also affects the ratings on how effective rot treatment will be. Rot treatment will come in handy if you want to protect it from absorbing moisture year after year.
Insects and pests are another major concern for woodworkers. Treated wood can kill these insects, and relatively dense wood is harder for insects to bite through. This means it also doesn't disintegrate when exposed to water since that makes it easy for the termites to bite through.
b. Where to Place It
There are a lot of different places you can consider placing your furniture in outdoor spaces. For instance, different wood types do better on a concrete patio pad than on grass. Others hold up better if kept under a cabana as opposed to direct sunlight for a long time. This consideration will help extend the life of outdoor furniture pieces.
c. Climate
Living in a wet or dry environment determines what kind of lumber you can use. Areas that receive plenty of rain or snowfall means need a more durable wood type that does well in wet places.
d. Storage Space
We all wish the spring season was all year long, but it isn't. This means that in order to extend the life of outdoor furniture, you can store it away from the harsh winter and natural elements. For each piece you plan to have, always consider the space you have to store it. This could be in the garage or shed, or just use a covered patio.
How to Protect Outdoor Wood Furniture
Direct sunlight and moisture can have intense negative effects on wood furniture. Wood is a great breeding ground for fungi, insects, and many other organisms. Additionally, when moisture penetrates the wood's interior, it expands and then eventually splits, giving room for pests to breed.
However, the good news is that wood furniture can be protected, especially if it is made from high-quality softwood or hardwood. Nonetheless, it's crucial to protect wood furniture. Here are some recommendations for how to do this:
Go for high-quality softwood or hardwood with some natural preservatives
Fitted furniture covers
Use a high-quality protectant
Overall, the ideal method comes down to your personal preference.
Frequently Asked Questions on the Best Wood for Outdoor Furniture
I. Is Meranti (Shorea) good quality wood?
Meranti, under the shorea wood species, is one of the easiest hardwoods to deal with since it easily cuts through, whether in machine processing or just sanding. For this reason, besides outdoor wood furniture, meranti wood is used for molding, structuring, windows, cupboards, and door trims. It is also most suited for exterior use even without the use of treatment.
II. Is acacia wood better than oak wood?
Some people may prefer oak; however, acacia wood is much harder. In fact, acacia is even more durable than mahogany, oak, and maple wood. This makes it a more preferred option for outdoor furniture, especially one used in high-traffic settings. Besides its durability, acacia has an exotic wood grain that is aesthetically unique.
III. What are the most common hardwoods used in the USA?
These include:
Oak
Maple
Birch
Walnut
Poplar
Cherry