As a DIY enthusiast or professional woodworker, you know the importance of having the right tools to bring your projects to life, for instance, a trim router. This is an essential piece of equipment that provides precision, versatility, and ease of use. Besides, you can create clean and articulate projects like a standard wood router. Also, with a trim router, you will enjoy more advantages. Here are the best trim router models for your next woodworking projects.
What Is a Trim Router?
A trim router is a compact power tool used for various woodworking and home improvement tasks. It is often used to create decorative edges, make precise, shallow cuts in a workpiece, trim on wood surfaces, and cut grooves and mortises.
Image Source: kmtools.com
Unlike regular routers, trim routers are usually small and lightweight, making them easy to control and maneuver. They are versatile and can be used with various bits and attachments for different cutting and shaping tasks.
Now that we know what a trim router is, let's check out the best models for your DIY and wood projects.
| | | | |
| --- | --- | --- | --- |
| | | | |
| | | | |
| | | | |
| | | | |
| | | | |
1. Makita Compact Router Kit, RT0701CX7
Makita RT0701CX7 1-1/4 HP* Compact Router Kit
Variable speed control dial (10,000 - 30,000 RPM) enables user to match the speed to the application
Smooth rack-and-pinion fine depth adjustment system for more precise settings
Slim and ergonomically designed body for increased comfort and control
Quick release cam lock system for easy depth adjustments and base removal/installation
Electronic speed control maintains constant speed under load. Fits compact routers models RT0700C and RT0701C
The Makita RT0701CX7 Router Kit includes the corded trim router, a router edge guide, and a handle. The handle kit allows you to conveniently operate the tool where space is not tight. Besides, the router has a power rating of 1.25 horsepower for enhanced performance. And with a variable speed dial of 10000 to 30000 RPM, I can control the speed depending on the material.
Image Source: thewoodsmithstore.com
The trim router can reach a maximum depth of 1⅜" and includes a smooth rack and pinion adjustment setting, which I use to choose the correct depth. On the other hand, the quick-release cam lock system makes it easy to change the base, install other bases, and adjust the cut depth.
Furthermore, the base has high visibility features, making it easy to use the router. Also, the unit's body is lightweight and portable, weighing only 3.9 pounds. The trim router's durability is enhanced by its heavy-duty aluminum body.
2. DEWALT Router, (DWP611) Fixed Base, 1-1/4-HP Max Torque
Sale
The DEWALT DWP611 has a 1.25 horsepower rating and more than enough seven amps torque for handling mid-level workloads. Besides, the base has a maximum depth of 1.5 inches, which allows you to cut into small to medium-sized materials. Furthermore, you can adjust the depth of the cut without using a tool by unclipping the latch, turning the base until the desired depth is reached, and then clipping the latch.
Image Source: ebay.com
The compact design makes it easy for me to operate it in tight spaces without feeling overwhelmed. And with a variable speed range of 16000 to 27000 RPM, I can control the speed depending on the material I'm working on to minimize splintering and damaging the workpiece. Conversely, the clear plexiglass base plate on the tool allows me to view my work area and the bit as it cuts through the material.
The dual LED light on the unit provides adequate light to create precise cuts on the workpiece, so visibility isn't an issue. However, one of the minor drawbacks of this tool is the base's unstable attachment, which slightly wiggles when moved in a different direction, affecting accuracy.
3. BOSCH Palm Router, GKF125CEN
Sale
BOSCH GKF125CEN - Palm Router + Palm Router Edge Guide
EASE OF USE: Revolutionary new depth adjustment system for easy and precise depth adjustment
POWER: Featuring a 1.25-HP, 7.0 Amp motor for compact versatility with 16,000-35,000 RPM
Straight edge guide designed for palm routers – mounts to Bosch GKF125CE, PR10E and PR20EVS palm routers' PR001 and the PR101...
Guides palm Router along the edge of a workpiece – for edge-forming operations that use bits without bearings or for creating...
The Bosch Palm Router GKF125CEN boasts 1¼ HP of power and more decent seven amps of torque. Because of its variable RPM range of 16000 to 35000, this trim router can cut a wide range of materials. The trim router's ultimate plunge is set at 1 3/16″ when determining how deep you want to cut material. Besides, it has a soft-start and constant response circuitry to enhance its durability.
Image Source: boschtools.com
I love how easy the tool is to use and handle. It features a rubber grip, a long swivel chord, and a recessed power button. The trim router also has an LED light that illuminates the working surface without casting shadows whenever I work on a project in my garage. Other features worth it include an easy-to-adjust base and spindle lock button, making it easier to use.
4. AVID Power 1.25 HP Compact Router Kit
Sale
AVID POWER 6.5 Amp 1.25 HP Compact Router Tools for Woodworking, Fixed Base Wood Router with Trim...
Powerful Motor & Variable Speed - 6.5-Amp motor with max horsepower of 1.25 delivers abundant power for a variety of routing and...
Precise Operation & LED Lights - Smooth rack-and-pinion depth adjustment system ensures precise operation for a range of cabinetry...
Ergonomic Design & Convenience - Rubber covered handle for comfortable grip;The quick locking system for convenient depth...
Durable Housing & Clean Jobsite - The aluminum body and base for long term durability; Dust hood removes dust to leave a clean...
Package Included - 1.25 HP compact router tool with 12.1Ft/3.7m cord, 5 router bits, edge guide, roller guide, dust hood, 3/8"...
Avid Power Trim Router has a 1.5 horsepower motor and produces 6.5 amps of torque. This torque has a 120v rating and delivers a remarkable variable speed range of 10000 to 32000 RPM. Besides, some of the parts on this trim router are compatible with the more popular Makita routers, so getting replacement parts is easy.
Image Source: ebay.com
The Avid Power Trim Router Kit includes five router bits, ⅜" and ¼" collets, a dust collector, edge and roller guides, and a vacuum attachment. Its aluminum body is durable, and the rubber handle enhances my grip whenever I work on a project. Moreover, the trim router features dual LED lights, which I find handy in boosting my visibility, and the smooth rack and pinion system allow for easy depth adjustment.
The trim router comes with an affordable price tag. However, there are a few drawbacks, like overheating body that requires a break after 30 to 45 minutes of use. Also, the unstable rack and pinion adjustment system might make controlling the bit at maximum depth difficult.
5. Milwaukee's 18.0 V Cordless Router, 2723-20
For cordless trim routers, count on the Milwaukee's 18V 2723-20 model. The 18-volt battery on the tool still pushes 900 watts, generating 1 ¼ hp of power. Besides, this compact trim router has a speed range of 10000 to 31000 rpm.
Image Source: ebay.com
In addition to exceptional performance, the trim router has some of the best adjustments I have ever come across, including 1/64" steps. Of course, this router continues to dominate in specifications, with the largest plunge depth at 2".
Furthermore, the trim router's overall build is among the best model I have used since it's the only model on our list to feature a brushless motor. However, after using the unit for a while, I have one main notable drawback, the battery pack usually makes the trim router heavier than usual. Also, all of its excellent quality comes at a high price.
Factors to Consider Before Buying the Best Trim Router
1. Power
When shopping for the best trim router, consider the tool's power. Trim router motors usually generate up to 1 3/4 horsepower. A 1 HP or less trim router is enough if you only deal with light projects. However, if you intend to use it for long hours on demanding projects, acquiring a tool with a higher HP rating is wise.
Note that horsepower isn't the only determinant of a router's performance. Revolutions per minute (RPM) are also vital under various load settings and amp ratings. To get the most out of your trim router, look for one with a speed range of 10,000 to 32,000 RPM.
2. Corded Vs. Cordless
Corded trim routers are the most common models since the direct power connection ensures that the motor receives steady power. This is especially crucial for this type of power tool since its compact size and priority on precision require a consistent supply of power to perform properly.
Conversely, cordless trim routers are rare since only some companies can keep the battery power supply high enough to prevent the motor from bogging down. However, companies that manage to get the power balance right deliver one of the most versatile and maneuverable trim routers on the market.
3. Fixed Vs. Plunge Base
When looking for the best trim routers, you must choose between a fixed base and a plunge base. A fixed base trim router is usually used for edge shaping, rounding, and other basic routing tasks. This compact, lightweight tool is easier to use than plunge routers for most first-time users.
Image Source: bentswoodworking.com
On the other hand, a plunge base router is usually used for engraving, dovetailing, and cutting grooves. A plunger base router is perfect if you prefer greater versatility when it comes to depth adjustments. However, learning this specific power tool may take some time if you are new to woodworking.
The good news is that manufacturers have designed trim routers with motors that you can attach to a plunge base and fixed base. Though these trim routers are more expensive, their replaceable design makes them more cost-effective in the long term.
4. Precision
Carefully consider the precision of the trim router you want to buy. The precision of a trim router is affected by the ability to set the drill bit correctly. That said, you need to know how far you can adjust the but and how sensitive it is to adjustments.
Small sensitivity to change helps you to make fine adjustments faster. However, adjustment sensitivity on low-end trim routers can range from 1/16th of an inch to 1/64th of an inch on high-end trim routers.
5. Variable Speed & Depth Adjustment
When buying the best trim router, don't only focus on top speeds. Pay attention to also the speed dial. A trim router with variable speed control allows you to customize the tool's speed.
Adjusting the feed rate is usually crucial, especially if working with a larger bit size or on acrylic, plastic, or thinner/delicate workpieces. Also, running the trim router at a lower feed rate will prolong the life of your bit and keep the router from damaging the workpiece.
Conversely, slide the motor up and down on the shaft for fine depth adjustment after removing the collar. It is effective for large-scale adjustments, but a more sophisticated mechanism would be preferable.
6. Safety Features & Accessories
Before buying the best trim routers, check whether they have additional features. Some models have additional features such as LED lights, edge guides, a vacuum hood or dust cover, external carbon brushes for continuous spinning, and many more.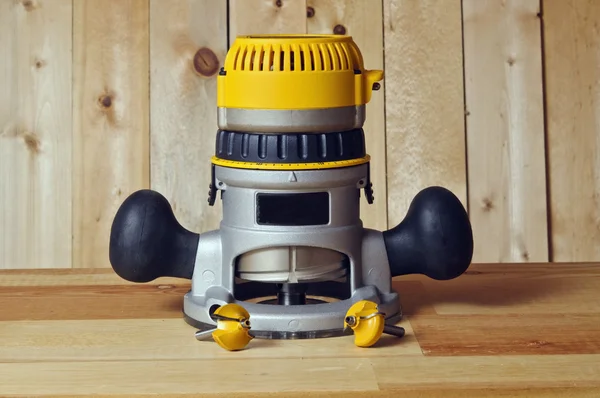 Image Source: depositphotos.com
Besides, we recommend investing in trim routers with safety features and a smooth depth adjustment system. Also, look for compact routers with a safe depth hold since they help prevent many abandoned projects.
Frequently Asked Questions on the Best Trim Router
1. What's the Difference Between a Standard Router and a Trim Router?
A trim router usually fits in one hand and is ideal for smaller projects because of its smaller powerful motor. Also, trim routers use shank bits with a length of 14″ (6.35mm). On the other hand, a standard wood router requires two hands to operate because of the large size of the motor. Besides, it's designed for bigger projects and bits with a 12″ (12.7mm) shank.
2. Is a Trim Router Enough?
Trim routers are still excellent for solid-wood edging, flush-trimming laminate, and veneer edge banding. For this task, bearing-guided flush-trim bits work well. To avoid grain tear-out, route in a climb-cutting pattern (for edging 14″ thick or less).
3. Can You Use a Trim Router to Cut?
Yes, you can cut dadoes, laps, rabbets, and other joint pieces in the same way larger woodworking tools can. To limit cutting depth, run the base's edge against a clamped straightedge, attach a straight edge guide, or use a piloted bit.
Featured Image Source: sawinery.net