Wood projects require saws. No one wants wood splinters and uneven cuts in their wood. Therefore the best track saw will give you more power and better cutting angles that a circular saw could never provide. Needless to say, accuracy is crucial in woodworking projects. Below is a list of some of the best track saws on the market.
Best Track Saws for Your DIY Projects
| | | | |
| --- | --- | --- | --- |
| | | | |
| | | | |
| | | | |
| | | | |
| | | | |
1) Kreg ACS-SAW Adaptive Cutting System
Kreg ACS-SAW Adaptive Cutting System Plunge Saw
Premium Plunge-Cutting Circular Saw: Gives you perfectly straight cuts without splinters or chips
Cut Precisely, Every Time: Cut through plywood, solid wood, panels, and more with ease and precision
Adjustable Track Saw: Cut from 2 1/8 inches at 90 to 1 1/2 inches at 45; works with Kreg 62-inch Guide Track
Safety: Kreg track saw features fully-shrouded blades, anti-kickback control, electronic blade brake, riving knife, right-handed...
Kreg Tools: We offer products that help woodworkers close the gap between idea and outcome
If you are a seasoned woodworker like I am, a Kreg is an ultimate tool you require. Of all cutting-edge saws I have tried, it is one of the best track saws with the best performance and accuracy. This plunge-cut saw is lightweight and easy to use. Additionally, you can make easy straight cuts without any chipping or splinters.
Image source: thehomedepot.com
Most power tools have safety features, and the blades are fully shrouded, with an electronic blade brake, and a spring-loaded riving knife to prevent kickback. I was pleased that this is one of those plunge saws that gives you excellent cut quality regardless of the material. You can even cut through finger-jointed pine with ease.
The single bevel point ensures the track saw can take large applications. I realized that with bevel adjustment, you can easily cut between 0-45 degrees without a problem. Of course, I have had track saws that didn't require adjustments. However, the dust port works well when connected to a vacuum so you don't breathe in any particles.
With this plunge-cut track saw, you have to use the saw track provided. Other saw tracks will not work. They will either be too thin to fit the blade diameter or not align well.
2) BOSCH Tools Track Saw - GKT13-225L
Sale
BOSCH Tools Track Saw - GKT13-225L 6-1/2 In. Precison Saw with Plunge Action & Carrying Case
Track saw with plunge action – provides fast, easy setup for one-step clean finish cuts in wood and wood-based sheet goods such...
Plunge mechanism – allows for precise plunge cuts with accurate depth of cut
Single bevel pivot point – when sawing using a track (sold separately), the track can be positioned in the same way for bevel...
Constant electronics – helps maintain speed under the load of more-demanding applications
Overload protection – protect the motor from overheating
Bosch track saws have the best track connections, meaning you will get zero chips and a smooth edge. There are two buttons on the angle gauge that allow you to cut between 1-47 degree angles.
However, before I bought this saw, there were complaints of the angle being .5degrees off. Of course this can ruin your accuracy. However, I did find that it is an easy fix if you adjust the screws at the back of the track saw.
Image source: protoolreviews.com
Setting up the track saw is very easy. The adjustment dials need to be turned to the snug fit for the saw to fit. After a few uses, I noticed that the track saw has a large cutting capacity, and therefore requires a bigger working space. Most other saws I have tried usually veer off their tracks.
This saw stays true and gives straight cuts on my plywood, wood, and other laminated particle boards thanks to the plunge mechanism. Of course, the dust collection system is excellent and ensures I always work in a dust-free environment when connected to a vacuum. In the case you use your plunge cut track saw for demanding applications, you still have the overload protection.
3) Makita SP6000J 6-1/2-Inch Circular Saw
Makita SP6000J 6-1/2-Inch Plunge Circular Saw
Powerful 12.0 AMP motor for optimum performance in a wide variety of materials
Precision accurate cutting delivers a splinter-free mirror finish
Electronic speed control maintains constant speed under load for smooth cutting
Variable speed control dial (2,000-5,200 RPM) enables user to match the speed to the application
Built-in current limiter helps prevent motor burnout
This circular track saw kit is very accurate and well-equipped to cut expensive or heavy blocks of wood. Of course, whenever I am cutting expensive hardwood, I need to be as accurate as possible. With precise cuts, this 6.5-inch saw blade can get through most materials and any of my impromptu DIY jobs.
Image source: ebay.com
Additionally, I like that it is portable so you I can easily switch from one job site to the next without a problem. You just need a sturdy workstation. Keep in mind that like most blades, you will have to sharpen the track saws blade. However, this won't be an issue because the blade is easy to sharpen, and the Makita track keeps the cut line straight.
I found that the cord on this corded track saw is long enough to maneuver around the wood. However, if you have a problem with cords, you can get the cordless track saw option. With zero clearance track, you can expect butter-smooth, straight, and splinter-free cuts. Of course, the variable speed control dial ensures the motor can handle heavy applications.
4) Evolution - 027-0004C Corded Track Saw
With o-45 degrees bevel cuts, you can cut your wood at any angle and adjust the angle using the bevel thumb lever. Which is why I was excited to try plunge cuts with this saw. Plunge cuts are made easier since this is also a multi-material circular track saw.
The track is included so you don't have to buy any parts. Additionally, when I want straight cuts, it's easier for me to use connector bars and the hex key to keep them as straight as possible.
Image source: sawstrend.com
The soft grip handles are excellent to prevent drops. I did notice that this is not a heavy machine by track saw standards. However, it can be hard to maintain a solid grip. The saw blade size is perfectly straight for splinter-free cuts.
However, I found that the track is a little short if you need to cut through a full-length sheet of particle board or MDF. Therefore, if you need long cuts, it is better to purchase a longer track.
Apart from wood, I tried the saw on other materials. Safe to say it can also cut steel and aluminum with the same blade. This power tool also has a long cord which is excellent since I always have to manipulate large sheet goods. Of course, you also have to keep in mind that this is one of the multi-use corded track saws. It is not as fast or as efficient as a specialized tool like a Stihl chainsaw.
5) WEN CT1065 10-Amp 6.5-Inch Circular Track Saw
WEN CT1065 10-Amp 6.5-Inch Plunge Cut Sidewinder Circular Track Saw
Ditch the table saw: rip boards up to 2-1/3 inches thick with clean, splinter-free cuts
Create 45-degree bevel cuts in boards up to 1-5/8 inches thick
Perfect for ripping boards or for performing internal plunge cuts
Includes a 6.5-inch 24-tooth carbide-tipped blade (165 mm) with a 20 mm arbor
Compatible with the WEN CT9502 100-Inch Track and the WEN CT992F Track Saw Clamps
This circular saw is one of the best woodworking tools that are perfect for beginners and anyone who is interested in home DIY projects. I noticed that the saw easily allows you to start the cut at the end of the material which gives better control and variable speed throughout the process. I initially had a problem with the kickback wheel. However, the anti-kickback wheel is very firm once I mounted the saw blade.
Image source: sawstrend.com
However, once I started working, it presented more push than I'm used to, which has made it more difficult to work. However, you can always remove it. Once removed you have to be more careful. But, it still gives you smooth operation and straight cuts with very few saw marks if any.
I appreciated the dust collection systems since it's efficient once you connect the track saw to a vacuum. However, it is still recommended to wear a mask and safety goggles. There were a few complaints about the track saw components like knobs and adjusters being made of plastic. However, it is a non-issue for me given that it is very efficient, and can make deep and straight cuts on large sheet materials.
Track Saws Buying Guide
a) Safety Features
Image source: woodmagazine.com
These features include having a dust port to collect dust as you work. This ensures safe operations. Additionally, with any electric model, a brake should be standard since it can ensure the blade stops immediately. This is important especially during an accident when you lose control of the handle. Riving knives prevent kickback.
b) Bevel Cuts
Image source: timber2udirect.com
Bevel cuts can only be made with adjustment to the blade. Every plunge saw has a bevel capacity ranging between 0-47 degrees. Making different types of cuts requires a bevel adjustment.
c) Depth Settings
Image source: youtube.com
Depth settings dictate how accurate your fine adjustments can be. Therefore look for one of the top-rated track saws that accommodates depth settings in millimeters. The locking mechanism also matters.
d) Track Length
Image source: ukworkshop.co.uk
Most of the tracks provided in the initial kit are usually the perfect fit for your projects. However, this is not always the case. Therefore you might need to search for more accommodating sizes. When shopping, ensure to also include dual-edged tracks for more options.
e) Motor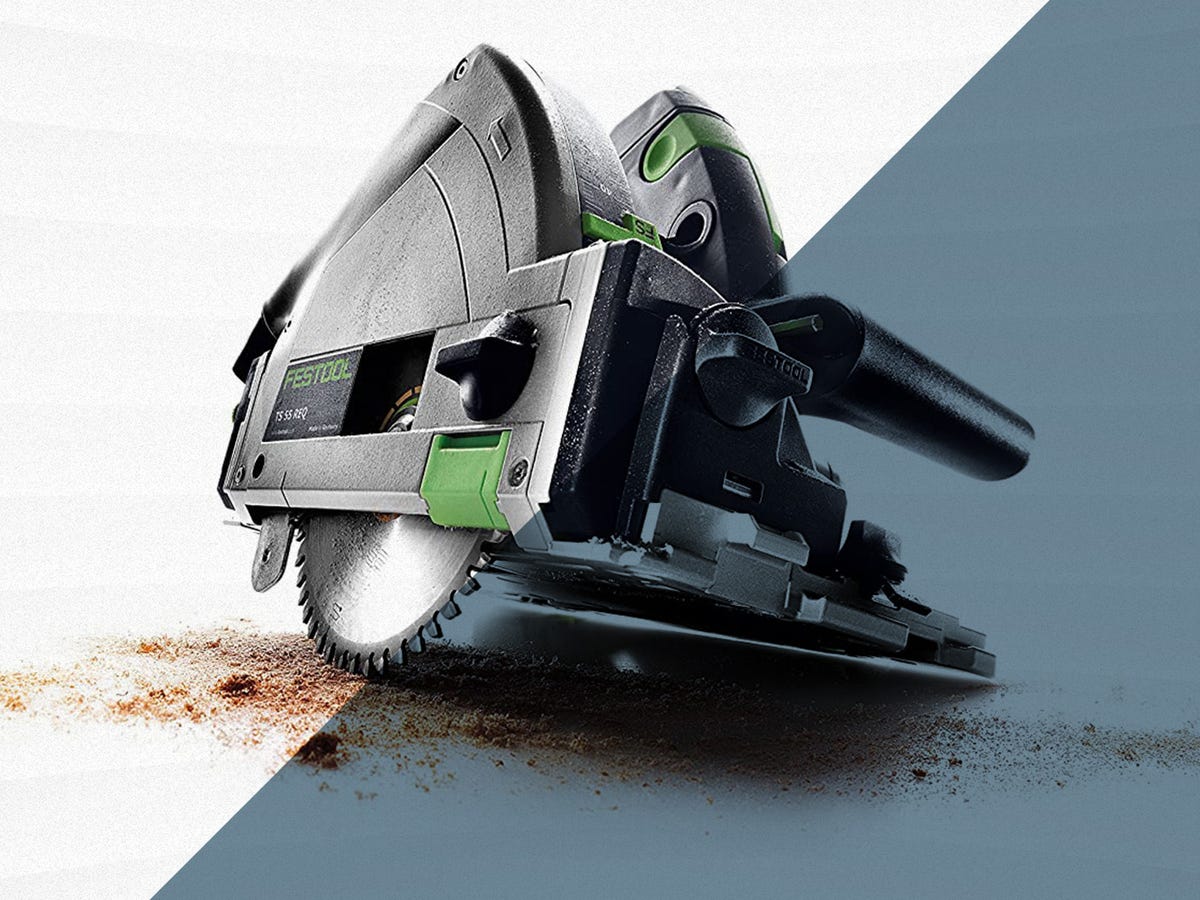 Image source: popularmechanics.com
Your motor has to match the type of projects you usually undertake. Therefore, look for something with at least 9 amps of power. Keep in mind that the faster your motor, the faster your work will be. Of course, it also helps that you can bring the material to the saw.
Frequently Asked Questions About the Best Track Saws
i) How do I choose a track saw?
There are multiple factors to go through before selecting a track saw. Of course a few of the things to look for include corded or cordless track saws, the size of the blade, and the safety features among others.
ii) Is a track saw worth the money?
Yes, it is. If your projects involve making accurate and long cuts, then a track saw is the best fit.
iii) Are more teeth better on a saw?
Yes, The more teeth your saw has, the better and cleaner the cuts are. Carbide-tipped blades are also the strongest so you will have butter-smooth cuts.
iv) What are the advantages of a track saw?
Track saws give accurate and precise cuts. Additionally, they are light and portable.
The Bottom Line
Making the right pick when it comes to track saws is crucial for the continuation of your projects. A top-quality track saw will serve you well for many years to come. Not to mention track saws are smoother than most saws.
Featured image source: woodsmithspirit.com