Gone are the days when woodworkers had to choose between a contractor table saw made for remote work, and a permanent cabinet table saw that is more expensive. The best hybrid saw has excellent aesthetics and a nice cut while remaining within budget. Most woodworkers don't require the high horsepower of the cabinet or contractor saw.
However, they still want something a little fancier and fall between the two saws. Hybrid saws offer a blend of these two categories of saws, meaning they give the best of both worlds. However, there are countless brands that make saws with different features and specifications.
This can pose a significant challenge when selecting a hybrid saw for your workshop. We have researched and tested different hybrid saws to help you narrow down your options. We will review each saw, reveal what is excellent and not so great, and discuss each saw's safety features, engine size, and exhaust ports.
What Is a Hybrid Table Saw?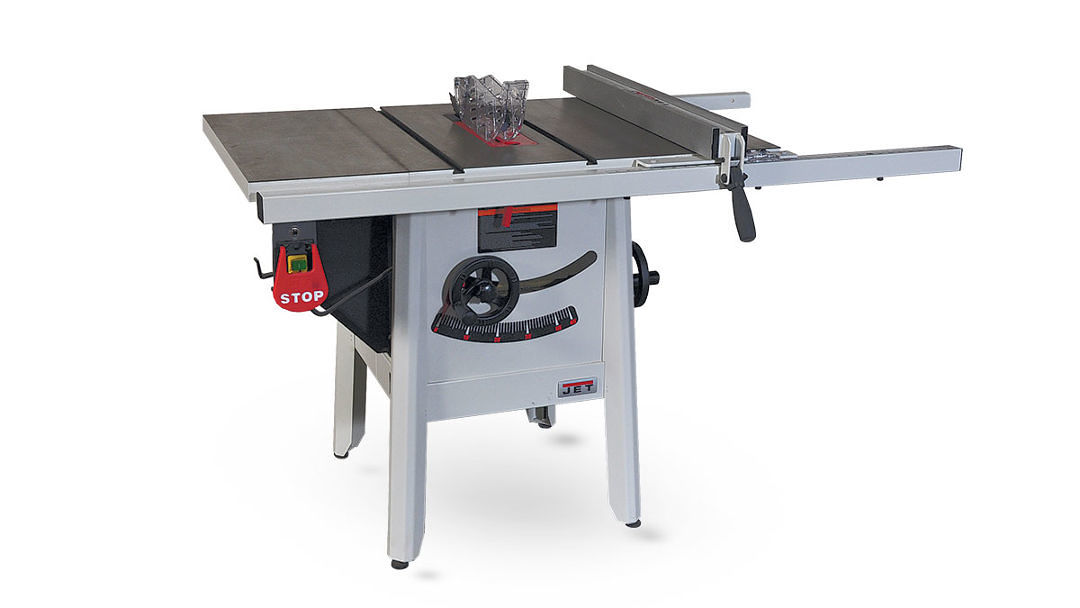 Image credits: Finewoodworking.com
A hybrid table saw is a design that combines features from cabinet saws and traditional contractor saws. The hybrid saw resembles a contractor saw that places its motor and other components into a wooden cabinet. It uses a lower-powered motor that does not need a 240-volt circuit, and it is less expensive, more attractive, and its components are better protected.
A cabinet saw consists of a cabinet built to house the motor and other components in the contractor saw. It has a heavy-duty blade carriage that connects to the cabinet with substantial trunnions and supports a powerful 3 or 5-hp motor. The cabinet saw has better aesthetics than the contractor saw and is more powerful, costlier, permanent, and harder to maintain.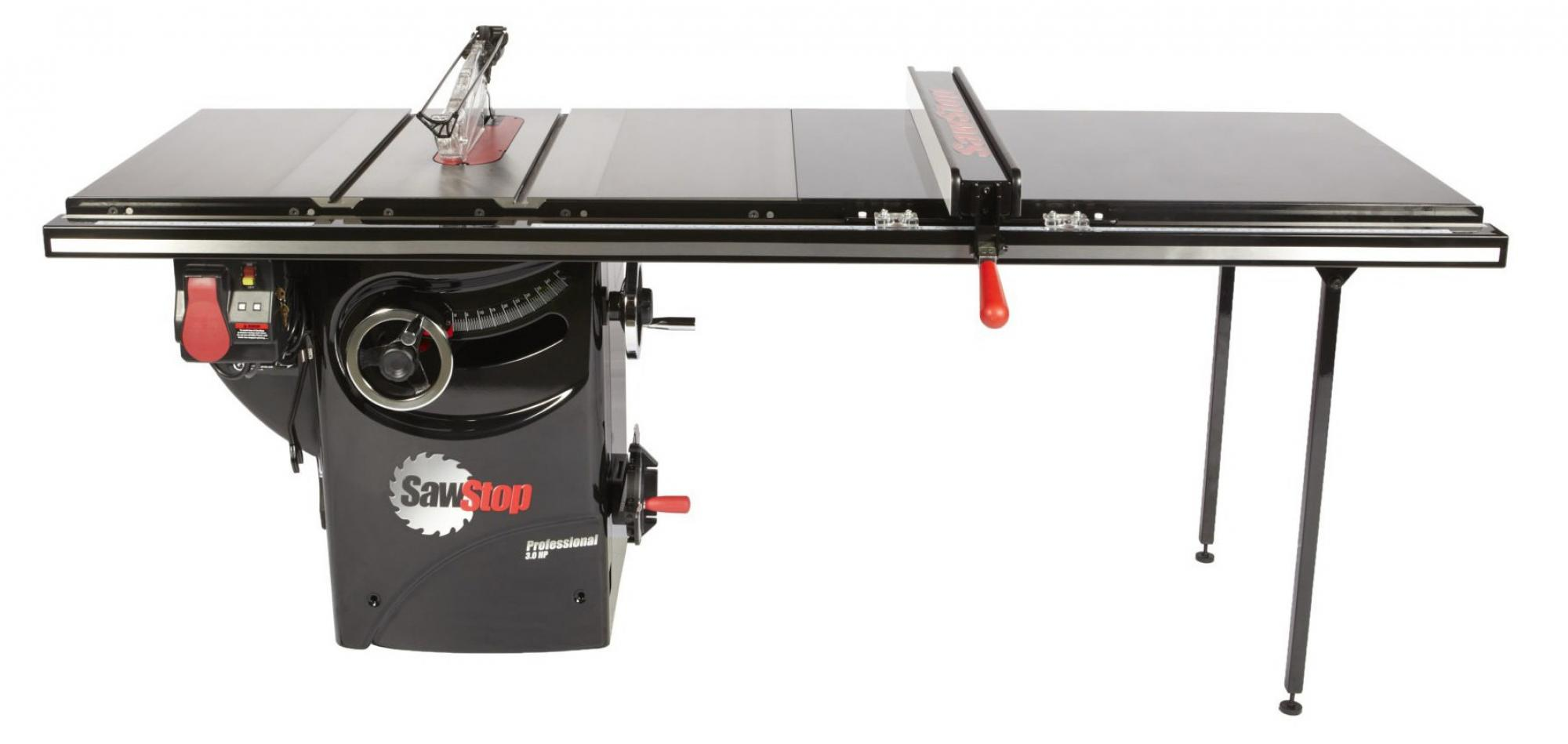 Image credits: Sawstop.com
The contractor saw was designed for job site use and consists of an iron table with four legs. It is lighter than a cabinet saw and has fewer internals. Their tilt mechanism and motor bolt on the bottom of the table are exposed. This arrangement allows for easy removal of the heavy motor for machine movement. However, the long drive belt that extends from the engine to the blade carriage affects power transmission and can cause vibration. Although heavy, you can move them, and they usually have motors of around 1.5 horsepower.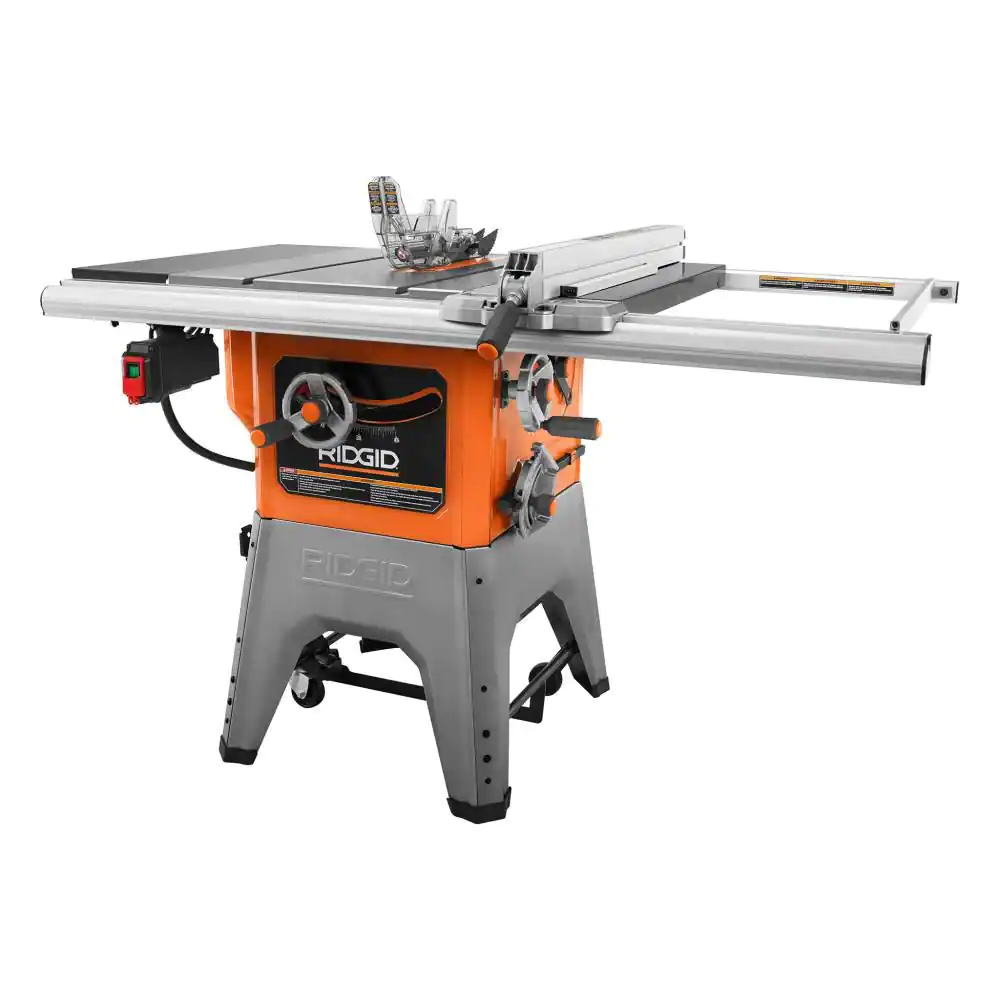 Image credits: Canadianwoodworking.com
Best Hybrid Table Saws – Our Top Picks
| | | | |
| --- | --- | --- | --- |
| | | | |
| | | | |
| | | | |
| | | | |
| | | | |
| | | | |
| | | | |
1. Shop Fox W1837
Shop Fox W1837 10" 2 hp Open-Stand Hybrid Table Saw
2 HP, 120V/240V, single-phase motor prewired to run on a 120V, 20A circuit
Enclosed cabinet bottom with 4" dust port
Precision-ground cast iron table with steel wings measures 401/4" x 27"
Rip capacity: 30" to right, 15" to left
Lift-off fence with front/rear locking ability
Image Credits: Ebay.com
Sometimes you could be working on a budget, yet you want a table saw with beautiful features. In this case, I recommend you pick the Shop Fox W1837. The table saw is made using cast iron and wings made of steel to reduce vibrations. This saw's table-to-height alignment ensures maximum accuracy.
This tool comes with a 10-inch, 2HP motor with a lot of ripping power and can slice through any wood without a whimper. On the other hand, the riving knife comes in handy when doing various operations like cutting. The hybrid's table saw's blade tilt is an enriching addition that makes the cutting of bevels child's play. You can set the blade tilt to any angle below 450
Regarding the dust port, the table saw has a 4-inch dust port for collecting wood shavings and accumulated dirt that can be quite a hassle on your workstation. The enclosed dust port saves your day and makes your work less hassle. Not to mention the built-in mobile base. This one is a movable base that allows you to position the unit to your choice.
2. DELT 36-715 hybrid Intermediate Saw
Image credits: Desertcart.com.kw
The Delta 36-715 is a traditionally styled hybrid table saw that offers a solid base with stability. All these are made possible by its weight which is only 358 pounds. It has cast iron table wings, just like the Shop Fox W1837, that reduce vibrations. I loved that I could safely make clean, angled, straight cuts with this unit and a blade that tilts for miter cuts.
Just like the Shop Fox W1837, the DELTA 36-715 Hybrid Intermediate Saw is affordable, and I recommend it for those working with a lean budget. Also, this could be a great table saw for you if you are a first-time buyer. It also comes with an emergency paddle that is found under the fence. This feature quickly shuts down the saw during an emergency.
3. DEWALT (DWE7491RS) 10-Inch Table Saw
Image credits: Toolboxbuzz.com
Are you a DIYer? If so, you cannot help but purchase this hybrid table saw. I was amazed by how much information there is on the internet and YouTube on how to use it and to help you handle a couple of projects at home. Using it is easy, and you do not have to battle with T-squares and handsaws as this unit is tailored just for you.
What makes me love DEWALT is that it has always been a reputable company for many years, and with their nicely made table saws mounted on castors, you have to take their word for it. This table measures 26 X 22 inches providing a sufficient surface area for most applications. Use this saw to perform cuts with a scope of 2 ¼ "at a 45° to 3 ⅛ "at a 90° angle.
It also has a 4HP motor that provides sufficient force to cut wood. On the other hand, the practical ripping fence armed with a flip-over action allows for cutting narrow pieces of wood. The flip-over action helps to hold two different positions superbly.
It has a 2,1/2 dust port at the unit's rear end for dust collection. They are ideal for keeping your workstation clean as you work.
4. SawStop CNS175-TGP36 1.75 HP Contractor Saw
SawStop 10-Inch Contractor Saw, 1.75-HP, 36-Inch Professional T-Glide Fence System (CNS175-TGP236)
SAWSTOP PATENTED SAFETY SYSTEM: Stops a spinning blade on contact with skin. The blade stops in less than 5 milliseconds, and...
UNMATCHED QUALITY: The trunnion and arbor are built for precision, strength and stability. Poly v-ribbed belts reduce vibration...
RELIABILITY: The Control Box houses the on-off switch, power paddle, and on-board computer, and constantly checks that all systems...
CONFIGURABILITY: Over 150 unique configurations, makes the Contractor Saw the most configurable SawStop saw. Adding a mobile base,...
UNIVERSAL PERFORMANCE: The Contractor Saw offers versatility, reliability and safety for a variety of users. The cast iron table...
Image credits: Sawstop.com
This one is a multifaceted unit. Not only does it guarantee your safety in the workshop, but also you can use it to do most projects that need cutting. Its mobility and stability also will amaze you. As we did, first-time buyers and experienced workers can find it easy to use.
Its patented safety systems and performance always deliver great peace of mind. SawStop contractor saw comes with a unique brake design and detects finger or hand contact with the saw blade. It works by retracting the blade and preventing severe injuries in your workshop.
The saw is precise, like some of the best hybrid saws in this list. You will also like its fit, finish, and tolerance levels. Besides, the saw's 36" T-glide Fence system guarantees precision and augmented strength.
I particularly loved its table extension, a 40-tooth 10-inch combination blade, two stamped wings, two adjustable legs, miter gauge, blade guard assembly, blade wrenches, and riving knife. It had a table made of cast iron, which measures 20" W and 27" D, and a left-tilted blade capable of cutting a maximum depth of 3,1/8 inches with a dado diameter of 8 inches. It also comes with a dust collection port, 4 inches, and a blade guard made using durable polycarbonate.
5. LAGUNA Fusion F2 Table Saw
F2 Fusion Tablesaw
1. 75HP TEFC motor
Fusion dust collection system
Cabinet mounted design
Included tools & integrated tool storage
Included 10 x 60T carbide-tipped blade
Image credits: Mmvic.com.au
As I was looking for something more safe, I came across Laguna Fusion F2 Table saw. It boasts a myriad of safety features for the user and the motor. A thermal overload, for instance, is one of those safety features and resets. On the other hand, the anti-backlash arbor adjustments, the kerf splitter guards, and the quick-set blade will make your work safe. Therefore if you are searching for a hybrid table saw that does the job and guarantees you the utmost safety, choose this unit.
I love its 1.75 HP motor, which is meant to run on 120 volts. Also, it uses a 5/8 inches arbor, holds the saw blades up to 10 inches, and includes a dado set of blades. Other available features of this saw are a built-in mobility kit and dust collection port that ensures your workstation is clean.
6. Shop Fox W1851 Hybrid Cabinet Table Saw
Image credits: Grizzly.com
I found the Shop Fox W1851 easy to use. It looks and functions the same way as a traditional cabinet table saw. This table saw is backed by a two-year warranty which I found quite convenient for me because I can purchase it without worrying about damages. It includes a motor configuration and power requirements to make the motor operate.
It has a high/low dual-position fence made from extruded aluminum. It guarantees several years of flat support when working in your workshop. Its blade can adjust to 90 degrees and tilts up to 45 degrees for mitered cuts.
7. Grizzly Industrial G0690-10 3HP 220V hybrid Saw
Grizzly G0690 Cabinet Table Saw with Riving Knife, 10-Inch
Arbor speed: 4 300 RPM • Arbor size: 5/8-Inch; Maximum dado width: 13/16-Inch • Maximum rip capacity: 291/2-Inch
Maximum dado width: 13/16-Inch • Maximum rip capacity: 291/2-Inch
Maximum depth of cut @ 90-Degree: 3-1/8-Inch • Maximum depth of cut @ 45-Degree: 2-3/16-Inch
Motor: 3 HP 220V single-phase Lesson
Table height from floor: 34-Inch • Table size with extension: 27-Inch x 40-Inch • Overall dimensions: 62-InchL x 41-InchW x...
Image credits: Ebay.com
The Grizzly G0690 has a punch of extraordinary performance; it was love at first sight for me. First, I could not help but test its 3 Horsepower, which easily cuts through wood. The table saw also comes with gigantic wings and heavy-duty cast iron trunnions.
The unit also has a magnetic switch of superior quality, a cam-locked T fence, T-slots variety miter gauge, heavy cast handwheels, mandatory riving knife, and a 4 inches dust collection port. This unit meets UL and CSA standards too.
Buying Guide for hybrid Table Saw
How do you choose the best hybrid table saw?
1. Power
When it comes to power, choose a saw depending on its horsepower ratings. If you intend to buy a saw that can cut hardwood and perform other tasks requiring much power, choose one with a higher horsepower rating. Smaller units have lesser horsepower, while big units come with more increased horsepower and are more powerful. Therefore, ensure that the power of your table saw is enough for your workload to avoid tripping the circuit breaker.
2. Cutting Depth and Blade Size
Most table saws have blades of 10 to 12 inches. Some units can come with smaller or even bigger blade sizes, but this depends on the work it is intended for. Table saws are capable of handling at least 3.5 inches in depth. There are types of table saws that can cut deeper than this. They are called specialty saws. However, they come at a higher price.
3. Speed
The speed of a hybrid table saw is rated in revolutions per minute or RPM. The higher the RPM means the speed of the saw is higher hence its accuracy. When you need more precise units, go for one with a higher RPM. Wood and soft plastic materials need speeds of a minimum of 3500 RPM; however, for more rigid materials, choose one with a maximum of 4000 RPM
Conclusion
Investing in a hybrid table saw is not as easy as it sounds. It requires much thought and the right information on how to choose one. In our case, we had to educate ourselves and practically try the units thoroughly. This is how we arrived at these. Note that we do not recommend any brand or specific model, but you can pick what you think is right for you. After reading through this conclusive guide, we are certain you will pick the right unit that suits your needs.
Featured image credits: Homedit.com