Did you know woodworking has psychological and health benefits? Imagine yourself working on a big project, a piece of furniture, or a big deck and being able to finish it in a fraction of the time and with a smooth finish that would make it ready for easy and fast wood staining.
As a woodworker or contractor, you know that having the right power tools is essential for getting the job done efficiently and effectively. One tool that can make a big difference in your projects is a drum sander. But with so many options on the market, it can take time to know which one is ideal for your needs. We've compiled this guide to help you find the best drum sander. Read on to learn more!
What Is a Drum Sander?
Image Credits: protoolreviews.com
A drum sander is a power tool for sanding and smoothing large, flat surfaces, such as substantive wood surfaces. It consists of a rotating drum covered with sandpaper and a conveyor belt that feeds the material to be sanded through the drum. The drum rotates in one direction while the conveyor belt moves in the opposite direction, allowing the material to be evenly sanded.
Drum sanders are commonly used in woodworking and construction to prepare surfaces for finishing or to remove old finishes. You can use them for sanding large areas of metal or plastic. In addition, they are versatile tools that you can use for both professional and DIY projects.
If you have a workshop or garage woodworking project coming up, having the best drum sander is imperative. There are different types to choose from, and each should have the best features for your needs. Drum sanders are costly, which makes your decision-making all the more crucial. So, before we tell you how to choose one, here are our top five drum sander recommendations.
When buying and testing these models, we looked for the best features, including design, sanding width, and more.
| | | | |
| --- | --- | --- | --- |
| | | | |
| | | | |
| | | | |
| | | | |
| | | | |
1. JET JWDS-1632 Drum Sander with Stand
Sale
JET JWDS-1632 Drum Sander with Stand (723520K)
Self-Regulating Feed Rates: Sandsmart control continuously monitors the load on the drum motor and regulates the speed of the...
Toolless Adjustments: Conveyor bed parallelism is easily adjusted by turning the dial on the outside of the bed.
Efficient Dust Collection: Dust hood includes a patented integrated channel that mirrors the shape of the drum and directs chips...
Protection From Heat Damage: Precision-machined and dynamically balanced extruded aluminum drum is designed to dissipate heat.
Compact Design: Stand features a 20" x 37" footprint to increase stability, and has a storage shelf and predrilled holes for...
The first drum sander we tested is from Jet. It is a powerful and durable tool designed for professional use, and we tested it for various features. This is what we can report on its build, efficiency, and ease of operation.
Image Credits: jettools.com
Firstly, the tool has a 16-inch wide sanding capacity, which makes it super ideal for our project. That, coupled with its compact design, meant we could use it in most corners of our workshop. Secondly, it has a powerful 1-1/2 horsepower motor and a durable cast-iron and steel construction. With the coarse sandpaper, we found this tool ideal for heavy-duty sanding projects.
Finally, we also wanted to guarantee a good working environment, which is why we loved the drum sander's perfect workshop saw dust collector, toolless table adjustments, an easy-to-read control panel, easily adjustable speeds, and low noise level. However, installing the sandpaper took us a bit of learning.
2. Grizzly Industrial G0458Z - 18" Open-End Drum Sander
The Grizzly Industrial G0458Z 18" professional drum sander is a heavy-duty machine you can use for various projects. We found this drum sander superb in terms of ease of use, thanks to its design and easy-to-understand control features.
Image Credits: grizzly.com
We recommend this drum sander for large projects since you can feed it large pieces of wood at different adjustable speeds. Its 2600 FPM and 3400 FPM drum surface speeds guarantee efficiency whether you are smoothing or removing old paint from your wood. The sander is built with a durable cast-iron and steel construction and is equipped with a powerful 3-horsepower motor that provides plenty of power for heavy-duty sanding jobs.
You can adjust the sanding drum to different sandpaper grits, and the machine also has a powerful dust collection system that keeps your workshop clean. While we found the machine effective and easy to use, we did not fancy the lack of wheels on the stand to make it more mobile, considering the tool weighs over 500 pounds.
3. Shop Fox W1854 Open-End Drum Sander
Shop Fox W1854 Open-End Drum Sander, 18"
Sanding motor: 1-1/2 HP, 110V, single-phase, 15 amps
Drum surface speed: 4000 FPM
Conveyor feed rate: variable, 0-12 FPM
Maximum stock dimensions: 36" wide x 4-1/2" thick
Minimum board length: 6"
We love the convenience of an open-ended drum sander, so we recommend this model from Shop Fox. It comes with a large sanding capacity measuring 18 inches. As a result, you can feed the largest pieces of wood and only need a few rotations to perfect the surfaces.
Image Credits: woodstockint.com
We loved the 1-1/2 HP, 120V, single-phase, 15 Amps sanding motor and the conveyor feed rate from 0–12 FPM that allowed us to work on soft and hardwoods. The machine is made with durable materials to last long in a busy workshop. When looking for most drum sanders, we always want a model with adjustable speeds, so we loved that we could easily adjust this Shop Fox to sand 2600 or 3400 feet per minute.
With this model, we could use soft to the most coarse sandpaper, and each sandpaper change was a breeze. While we found it a good value for money despite the weight, we had a hard time setting everything up.
4. Grizzly G1066Z Drum Sander
Grizzly G1066Z Drum Sander, 24-Inch
2 - 4-Inch dia dust ports for easy hook-up to a collection system; 5 H.P. 220V
5 H.P. 220V Drum motor drives 2 aluminum sanding drums
Handles stock up to 23-1/2-Inch and 4-1/4-Inch thick
Hook and loop sandpaper
Variable speed conveyor
If you are looking for the largest double drum sander, this model from Grizzly is our best recommendation. It has a 24-inch sanding surface that allows you to feed large pieces of wood. The double-drum computer-balanced design guarantees the best finishes on your hardwoods.
Image credits: grizzly.com
When testing this drum sander, we were impressed by the easy sandpaper installation, thanks to the hook and loop installation feature. The sander also has a large dust collection system that keeps the work area clean and prevents dust from clogging the machine.
We found the control panel with an amp load meter easy to use, and the adjustable speeds made using the machine easier. Apart from the high efficiency and large working area, we also recommend this drum sander for its reliable construction. While this means it is also heavier, the industrial-duty rubber conveyor belt, the aluminum drum, and the steel body construction mean you have a tool to last many years.
5. JET JWDS-1020, 10-Inch Benchtop Drum Sander
JET JWDS-1020, 10-Inch Benchtop Drum Sander, 1HP, 1Ph 115V (723510)
CONSISTENT QUALITY: Heavy-duty die-cast aluminum and steel body provides rigidity
OPTIMAL FEED RATES: Infinitely-variable speed control allows the user to choose the perfect feed rate
FAST ABRASIVE CHANGES: Toolless abrasive take-up fasteners make changes quick and easy
PROTECTION FROM HEAT: Extruded aluminum drum is designed to dissipate heat and protect wood from heat-damage
SOLID BOARD SUPPORT: Precision-flattened reinforced steel conveyor bed supports the boards passing under the sanding drum
We recommend this drum sander for a DIYer. As a benchtop model, the JWDS-1020 is compact and easy to move around the workshop. When buying this model, we did not expect it to perform as well as it did, especially in terms of power and performance. We were pleasantly surprised by its powerful 1-horsepower motor that made sanding wood a walk in the park.
Image Credits: jettools.com
In addition, the Jet drum sander is easy to operate and comes with an easy-to-read control panel. The infeed and outfeed tables are adjustable, which ensured we could easily feed our materials for the best finishes. The machine has ideal feed rates, and toolless setups were a welcome surprise.
While it is one of the best single drum sanders, we only recommend it for smaller projects thanks to the 10-inch sanding capacity. It is made with heavy-duty die-cast aluminum and steel body, thus guaranteeing longevity and rigidity. Unfortunately, we found this Jet mini drum sander a bit expensive and heavy.
Factors to Consider When Buying the Best Drum Sander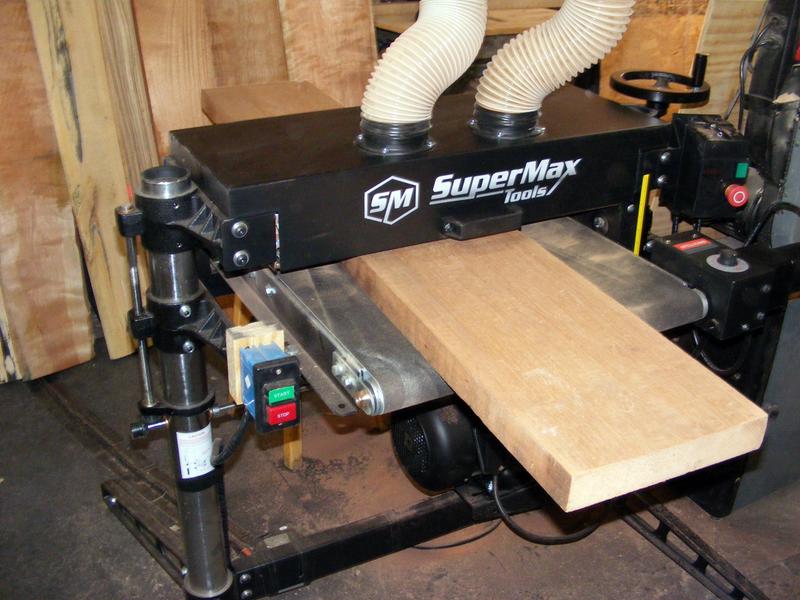 Image Credits: acmetools.com
If you have been reading drum sander reviews but still can't decide which model to buy, it may be because you don't know the best features to look for. If so, here are the essential factors to consider before buying:
a) Sanding Width/ Capacity
The sanding width refers to the size of the surface that the sander can handle. It is a vital factor to consider when buying a drum sander as it will determine the size of the projects you can tackle with the machine. Remember, a larger sanding width is ideal for larger projects, while a smaller width is better for smaller projects.
b) Design/ Type of Drum Sander
When looking for the best drum sanders, the type of sander is an important factor to consider. There are several types of drum sanders available, each with its unique features and benefits.
i. Benchtop Drum Sander:
Image Credits: youtube.com
These are small and compact drum sanders designed for use on a workbench. They are ideal for small-scale projects and those with limited space. Finally, they are quite easy to move around the workshop.
ii. Open-End Drum Sander:
Image Credits: popularwoodworking.com
These drum sanders have an open-end design, allowing longer and wider pieces of material to be sanded. They are ideal for large-scale projects.
iii. Closed-End Drum Sander:
Image Credits: woodtalkonline.com
These drum sanders have a closed-end design, which makes them more compact and easy to transport. However, they are only good for small-scale projects and workshops with limited space.
iv. Dual Drum Sander:
Image Credits: axminstertools.com
These drum sanders have two sanding drums, one for rough sanding and another for finish sanding. They are ideal for projects that require multiple sanding steps.
v. Combination Drum Sander:
These drum sanders have a combination of both open-end and closed-end designs and can handle large and small-scale projects.
By considering the type of sander that best suits your needs, you can choose a drum sander that can handle the specific projects you will be working on, providing the best results and finish.
c) Power and Motor
Image Credits: woodworkingtalk.com
The power of the sander is measured in horsepower (HP) or amps, and it affects the speed and performance of the machine. A sander with a more powerful motor will move material faster and leave a smoother finish, making it ideal for heavy-duty sanding jobs. It's important to consider the type of work you will be doing and check if the motor is of good quality or if it comes with a warranty to ensure it will last for a long time.
d) Adjustable Speeds
Adjustable speeds allow you to adjust the speed of the drum according to the type of material you are sanding. It is a superb factor to consider, especially because different materials require different sanding requirements.
For example, a hardwood would require a slower speed than a softer wood like pine. An adjustable drum speed feature is also useful when working with different grits of sandpaper, as different grits require different speeds. A coarse grit sandpaper would require a slower speed than a softer grit. An adjustable speed feature also allows you to work on various projects, making the sander more versatile and adaptable.
e) Durability and Construction
Look for a well-built and durable sander, so it can withstand frequent use and last for a long time. For example, consider if the sander is made of durable materials like cast iron and steel, making it more resistant to wear and tear.
f) Dust Collection System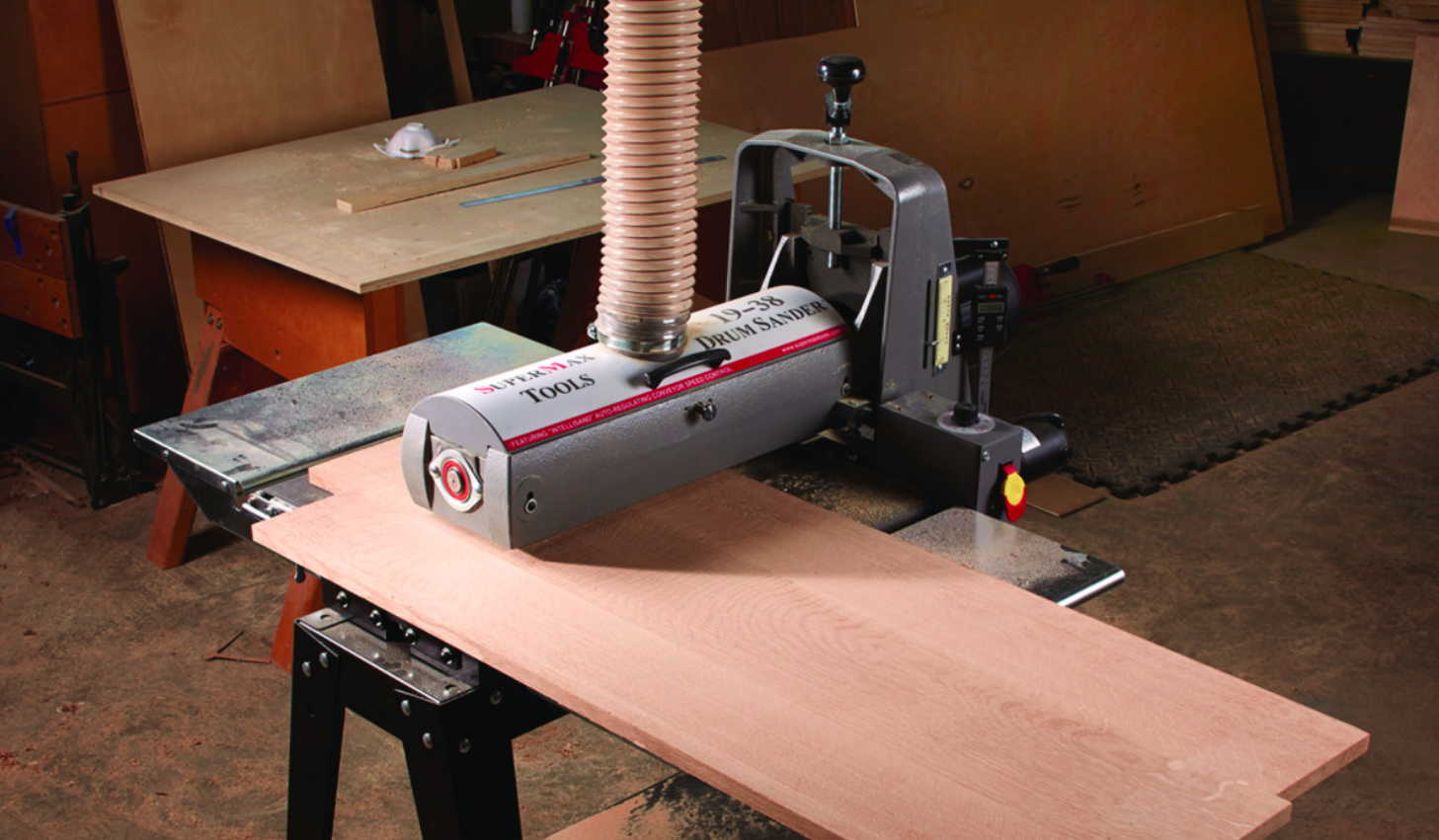 Image Credits: popularwoodworking.com
A good drum sander has a dust collector to keep your workshop clean. This system also prevents damage to your machine when dust and other elements clog the sander.
When looking for a drum sander with a good dust collection system, consider the size of the dust collection bag, how powerful the dust collection system is, and how easy it is to empty. Also, look for a suitable dust collection port to fit a vacuum or dust extractor; this will make it easy to connect the sander to a central dust collection system. Ensure the dust collection system is easy to access and clean.
g) Ease of Use
Look for a sander that is easy to operate, with features that make it user-friendly. These include:
i. Control Panel:
An easy-to-read LED control panel with clearly labeled buttons and controls makes it simple to operate the sander and adjust settings as needed.
ii. Adjustable Sand Boards:
Sanding tables that are adjustable ensure that the material is fed through the drum evenly, thus guaranteeing a smooth finish while saving time.
iii. Adjustable Sanding Drums:
An adjustable drum that allows the user to change the sandpaper grits easily; this will make it easy to adapt the sander to different types of projects and materials.