You may have probably noticed that working with wood requires some power tools. A cordless miter saw is one of the best tools to have. Of course, not only is it efficient, but it also has a wow factor that's hard to beat. Whether you want to upgrade from your normal saw or just seek the safety and accuracy of a miter saw, you are in the right place. I have curated a list of the best cordless miter saws, their pros and cons, and information on how they hold up in a working environment.
Best Cordless Miter Saw
| | | | |
| --- | --- | --- | --- |
| | | | |
| | | | |
| | | | |
| | | | |
| | | | |
1) DEWALT 20V MAX 7-1/4-Inch Miter Saw, Tool Only, Cordless
Sale
DEWALT 20V MAX 7-1/4-Inch Miter Saw, Tool Only, Cordless (DCS361B)
Integrated cut line cross-cut positioning system provides adjustment-free cut line indication for better accuracy and visibility
Capacity to cup 3 5/8 in. nested crown and 3 1/2 in. base vertically
Adjustable stainless steel miter detent plate with 11 positive stops improves productivity and ensures cutting accuracy
Oversized bevel scale makes bevel angle adjustments accurate and easy
Compact, lightweight design (30 lbs.) allows for easy transport and storage
This Dewalt cordless miter saw is the best to accommodate irregular wood pieces. This makes it perfect for any job. However, what stood out to me was how portable it is. Of course, I never expected a lightweight miter saw to be this efficient. Within the first few uses, this battery-powered miter still had enough battery power for more cuts.
Image source: ebay.com
The motor is powerful and sounds like the motor on a circular saw which put all my doubts at ease. To give you an idea of how good it is, the build is similar to a moderately high-end 110V unit. The cutting capacity is 7.5 inches, which might not seem like much. However, it can still cut 90 and 45-degree angles.
Of course, I had to tweak some of the adjustable settings to get the best accuracy for my DIY projects. The shadow cut line indicator works perfectly to make straight cuts. This is a perfect sliding miter saw for normal household projects since you don't have to recalibrate anything after one use.
However, one of the downsides is that it is made with a lot of aluminum and plastic. Therefore, it won't hold up well with large projects and can't take a beating.
2) CRAFTSMAN V20 7-1/4-Inch Sliding Miter Saw Kit, Cordless
CRAFTSMAN V20 7-1/4-Inch Sliding Miter Saw Kit, Cordless (CMCS714M1)
POWERFUL MOTOR: 3,800 RPM motor of CRAFTSMAN miter saw is made for cutting 2X dimensional lumber, hardwoods, baseboard and trim...
SLIDE CAPABILITIES: The mitre saw has 8-inch cross cut at 90-degree and 5-1/2-inch cross cut at 45 degree
ADDED CAPACITY: The sliding miter saw cuts 3-5/8-inch nested crowns and 3-1/2-inch baseboards vertically
ACCURACY AND VISIBILITY: LED cut line positioning system
QUICK AND ACCRUATE: 9 casted miter detent stops for adjustments
If your projects require cutting through hardwood, baseboard and trim, then this is one of the best miter saws for you. Of course, like most miter saws, the Craftsman has excellent slide capabilities. I was happy to find that with an 8-inch cross-cut, this cordless saw can make cross-cuts at a 90-degree angle.
Image source: rona.com
Additionally, the oversized bevel scale and LED lights provide the best positioning for a precise miter. It has great cutting power and can cut through most woods. However, it won't cut through the vinyl, and I had to find out the hard way. I think this is an excellent cordless tool for small projects since it can't cut through 4-by-4 posts.
I did enjoy how small it is compared to other cordless miter saws. This makes it the perfect outdoor power equipment for most working sheds. Furthermore, I did have some problems with crown molding, but I resolved them by cutting flat.
I attached a 24-tooth blade, and it works like a charm. The motor is also quiet, so that's a plus if you don't want to disturb your neighbors. Additionally, a cordless saw is worth it, and it also means I won't trip over any cords; that's a win.
3) Makita XSL06PT Dual-Bevel Sliding Compound Miter Saw with Laser Kit
Makita XSL06PT 18V x2 LXT Lithium-Ion (36V) Brushless Cordless 10" Dual-Bevel Sliding Compound Miter...
Powered by two LXT batteries; x2 LXT technology delivers more power, speed and run time without the hassles of a cord
Makita built electronically controlled BL motor delivers 4, 400 RPM for faster and smoother cutting
The BL Brushless motor eliminates carbon brushes, enabling the BL motor to run cooler and more efficiently for longer life
Automatic speed change technology adjusts cutting speed and torque during cut for optimum performance
x2 LXT technology delivers up to 334 cuts per charge in 2x4 spf and up to 192 cuts per charge in 2x12 spf lumber using two 5.0Ah...
This 10-inch cordless miter saw is one of the best power tools you can own. I like that it is perfect for both seasoned and beginner woodworkers. Of course, right off the bat, you should read all the features like miter capacity, bevel angles, miter adjustments, and maximum power output to get a feel of this tool.
Image source: toolauthority.com
From there, it's smooth sailing. I had to rest all the adjustments to zero for the trial run. A very cool feature that I did not expect was the automatic speed change technology. There are no speed settings to alter. You just have to guide the saw, and it does the job. Additionally, I did appreciate that the fence wings don't slide out, and the crown molding capacity is the largest in this tool.
If you want to make bevel cuts, then you will have to remove the fence wings for more accurate cuts. At first, I was apprehensive about the laser system, but it makes everything easier when cutting. Of course, you need a little practice with the laser, but it works well once you get the hang of it.
Furthermore, the electronically controlled BL motor gives you maximum power when cutting through wood. I have no complaints about the battery power output. With two pairs of batteries, you can work for many hours. Furthermore, they take the least time to charge.
4) Metabo HPT Sliding Compound Miter Saw
Sale
When I received this Metabo compound miter saw, I first had to test if the accurate laser guide system is as accurate as mentioned. Safe to say it didn't disappoint and increased cutting capacity. However, I had to re-calibrate the laser guide because it is slightly off by a few degrees. Additionally, the large fence raises fence height, so I could cut up to 7.5 inches vertically on any material.
Image source: stadiumhardwareinc.com
The miter angle is flexible for a 0-57 degree right angle and a 0-45 degree angle on a left angle. This gives you more flexibility and better accuracy when cutting. The bevel capacity also has a 0-45 degree angle, which allows me to flip the saw blade. This is helpful such that I don't have to move the piece of wood I'm working on. It also helps that the 12-inch blade can make very deep cuts.
Of all cordless power tools, especially miter saws, it is one of the best affordable miter saws. However, I found it is a little on the heavier side, and building a station for it will keep it and you safe. It's not a tool I can carry from one place to another, and the dust bag is average. Furthermore, the electric brake comes to an immediate stop whenever you want it to.
5) Bosch Cordless Miter Saw PROFACTOR 18V SURGEON GCM18V
Bosch PROFACTOR 18V SURGEON GCM18V-12GDCN Cordless 12 In. Dual-Bevel Glide Miter Saw with BiTurbo...
SURGEON PROFACTOR PERFORMANCE: for a truly mobile jobsite solution, this saw provides light weight and pro capacity
AXIAL-GLIDE SYSTEM: has an articulating arm, for wider cross-cuts enhanced alignment, and smooth glide while taking less space
LARGE CUTTING CAPACITY: features a cut capacity of 4.7 In. depth and a 15.7 In. width/crosscut; ideal cutting solution for trim,...
BITURBO BRUSHLESS TECHNOLOGY: featuring a brushless high-performance motor and drive-train system engineered to take full...
CONVENIENT PORTABILITY: weighs only 59.3 Lbs. (tool only, not including battery).ECO MODE: extends the battery runtime by up to...
Since Bosch makes some of the best tools, it's not surprising that this is an excellent cordless power tool. The axial glide system has an articulating arm that is best for wider cross-cuts. I realized it also provides a smooth glide and takes less space. This is perfect for cutting larger pieces of wood.
Image source: lowes.com
Of course, the large cutting capacity helps with any project. After all, I can make any type of cut I want. For instance, beveled and angled cuts are easier and faster, especially with more power. Still, I swap different saw blades for the best results.
It is clear why this is considered the best-sliding compound miter. Considering it's a 12-inch cordless miter saw with integrated base extensions, and a tall fence design, it takes very little space.
Furthermore, between charges, the batteries last me a few days while cutting through hardwood. The brushless motor is engineered to take advantage of the power generated by the batteries. Unlike most battery-powered tools, ECO mode boosts battery life by 20%.
Factors to Consider Before Purchasing Battery-Powered Miter Saws
Before buying a miter saw, you should ensure you purchase the best one you can find. Remember that cordless tools might not have the same power as their corded counterparts. But they make up for that by being very efficient. Here are some recommendations to go through before making the decision.
1) Blade Size
Typically cordless miter saws come in 7, 10, and 12-inch blades. It is important to remember that the smaller the blade, the smaller the machine. Additionally, a 10-inch miter saw will work much faster than a 12-inch one. Weight is also a factor as the blade size increases since more material is needed to encase the blade.
Image source: milwaukeetool.com
The cutting you perform daily is also important to consider. Remember, a 10-inch saw blade is better if you cut through trim or baseboard. The home projects you like to do on the weekend should also be fine with a 10-inch. On the other hand, a 12-inch miter saw is perfect when you need to make multiple cuts or cut through hardwood.
2) Features and Their Adjustability
The best thing about miter saws is that their features are not too complicated. Therefore, unless you are a beginner in woodworking, you don't have to read the features because you can tell which ones are included. That is very convenient. However, it is good practice to ensure that the features have some degree of adjustability.
Image source: protoolreviews.com
Adjustability guarantees you get straight cuts. If it's a bevel angle range cut, then that's what it is. Features like miter and bevel crown adjustments, front bevel controls, and removable fences allow for versatility. Plus, if you place your machine on a flat and sturdy spot, your work will also be easier with the fence guards.
3) What It Cuts
As you probably know, not all miter saws are made equal. Now, remember that saws have different capabilities and therefore have a limit on what they can cut. To ensure you can cut through many things, ensure your saw has the "maximum" of everything. After all, the maximum cutting or bevel capacity will allow you more freedom when cutting.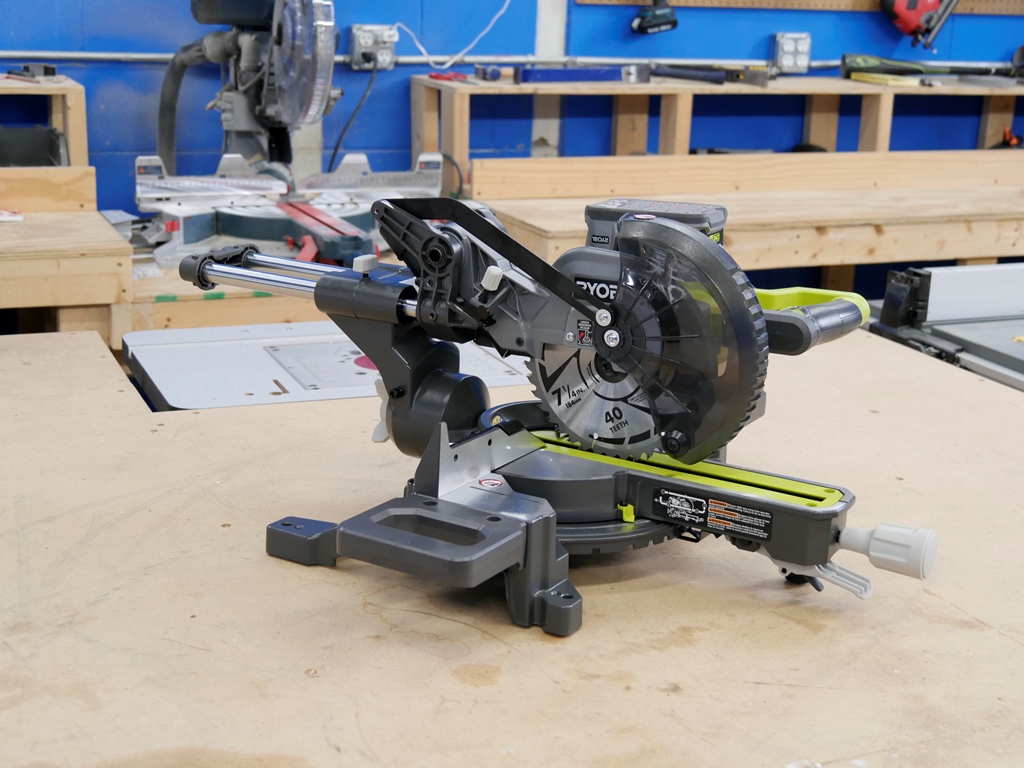 Image source: toolsinaction.com
Additionally, the more freedom you have when it comes to cutting, the better for your projects since you will be able to make any cut you need. Any miter saw with these features should be a strong consideration. It will make your life easier.
4) Batteries
Since these are some of the best cordless miter saws you will be looking at, it makes sense that they are battery-operated. With batteries, you should select anything with 18V. This will give you the necessary power for your woodwork. Additionally, a Lithium-ion battery will last longer without degrading.
Image source: toucantools.com
They are also fast to charge and don't dip down in power with use. I would recommend buying an extra pack of batteries simply so you can work throughout if one pack is low. It is also very convenient.
Frequently Asked Questions About the Best Cordless Miter Saws
i) What should you avoid when using a miter saw?
Firstly, using the saw on the ground would be a mistake because it can easily hurt you and others. Since the blade also spins very fast, cutting anything less than 20 centimeters is not recommended.
ii) What size wood can a miter saw cut?
With miter saws, it largely depends on the size of the blade. For example, with a 10-inch blade, you can cut through a 2-by-6 piece of wood at 90 degrees and a 2-by-4 at 45 degrees. If the blade is larger than 10 inches, then it can easily cut through thicker pieces.
iii) Is a miter saw worth it?
If you tend to make precise and accurate cuts, then a miter saw is the best tool to have for this job. It does intricate work very fast, and every carpenter should own one.
iv) What saw is best for beginners?
A miter saw is usually best for beginners since it is easy to use and versatile when it comes to various wood projects.
The Bottom Line
Miter saws are an excellent tool that every beginner or seasoned carpenter should own. When push comes to shove, then a miter saw offers much more in terms of convenience and accuracy. Of course, it pays to focus on the features you want on your saw, which is why we have listed miters with different qualities.
Featured Image Source: protoolreviews.com